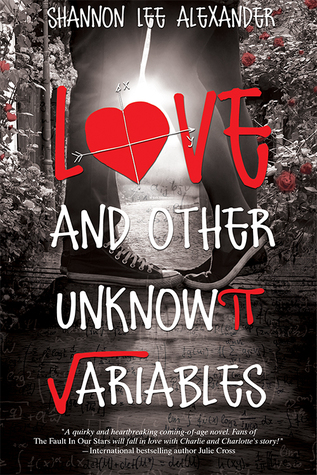 Love and Other Unknown Variables by Shannon Lee Alexander
Grade: DNF
This e-galley was provided by Entangled: Teen and NetGalley in exchange for an honnest review.
Summary:
Charlie Hanson has a clear vision of his future. A senior at Brighton School of Mathematics and Science, he knows he'll graduate, go to MIT, and inevitably discover solutions to the universe's greatest unanswered questions. He's that smart. But Charlie's future blurs the moment he reaches out to touch the tattoo on a beautiful girl's neck.
The future has never seemed very kind to Charlotte Finch, so she's counting on the present. She's not impressed by the strange boy at the donut shop—until she learns he's a student at Brighton where her sister has just taken a job as the English teacher. With her encouragement, Charlie orchestrates the most effective prank campaign in Brighton history. But, in doing so, he puts his own future in jeopardy.
By the time he learns she's ill—and that the pranks were a way to distract Ms. Finch from Charlotte's illness—Charlotte's gravitational pull is too great to overcome. Soon he must choose between the familiar formulas he's always relied on or the girl he's falling for (at far more than 32 feet per second squared).
When did I stop reading?: 30% into my e-galley
The Short Review: Charlie was a bit of a creep, and the book moved super slowly.
The Long Review: From practically the first page, I was not a fan of the main character, Charlie. He tries to touch Charlotte's neck the first time he meets her, and he just gets creepier from there. Not to forget, he blames Charlotte for the fact that he's infatuated with her. Blame yourself, dude, and exercise some self-control. The book moved very slowly and I felt like nothing monumental was happening. Plus, there's a big spoiler in the synopsis that hadn't been revealed in the book when I stopped reading. It didn't help that the formatting in my e-galley was very wonky, so there were giant inexplicable gaps between some paragraphs and all chapters, and I kept getting distracted when I'd have to turn 3-5 e-galley pages to continue the story.
The Verdict: Not really worth your time. There are better contemporary love stories out there.