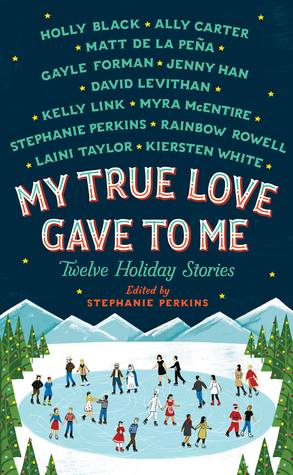 My True Love Gave to Me by various authors
Grade: B-
Release date: October 14, 2014
This e-galley was provided by NetGalley and St. Martin's Press in exchange for an honest review.
Summary:
If you love holiday stories, holiday movies, made-for-TV-holiday specials, holiday episodes of your favorite sitcoms and, especially, if you love holiday anthologies, you're going to fall in love with MY TRUE LOVE GAVE TO ME: TWELVE HOLIDAY STORIES by twelve bestselling young adult writers, edited by international bestselling author Stephanie Perkins.
The Good, the Bad, and the Ugly: I'm not usually a fan of short story anthologies. But when I heard Ally Carter was a part of this one, I knew I had to read it. I had previously read books by six of the authors (Stephanie, Ally, Gayle, Jenny, Rainbow, and Kiersten, if you were wondering), and I knew of Holly, David, and Laini.
I'm not sure if My True Love Gave to Me is a book I'd reread a lot (probably just around Christmas), but it has a lot of cute. Several of the stories could've used a bit more meat to them, while others could've been shorter. A good majority of the stories used foul language and some were a bit inappropriate in other aspects (drugs, drinking, partying, and romantic content). My average rating was 3.25 stars, so now I'll go story-by-story and get into further detail.
Midnights by Rainbow Rowell
Absolutely adorable. I gave it 4/5 stars.
The Lady and the Fox by Kelly Link
This was one of the stories that had the most inappropriate content. It was also pretty weird. I only gave it 2/5 stars.
Angels in the Snow by Matt de la Pena
Wasn't a huge fan, but this story felt pretty original, so I gave it 3 stars.
Polaris is Where You'll Find Me by Jenny Han
The same writing style that I enjoyed in To All the Boys I've Loved Before. I was a bit confused at the beginning of this one, but it wasn't too hard to figure things out. Very cute, but felt a bit too short and incomplete. Jenny's story gets 3.5 stars.
It's a Yuletide Miracle, Charlie Brown by Stephanie Perkins
So. Crazy. Cute. Definitely deserving of 5 stars.
Your Temporary Santa by David Levithan
Too much language, and by this point, I was getting tired of broken families in so many of the stories. It only got 2 stars from me.
Krampuslauf by Holly Black
Well that was...interesting. 2.75 stars, I think.
What the Hell Have You Done, Sophie Roth? by Gayle Forman
Really cute, but too much language for my tastes. I liked the setting and how the romance developed. 3.5 stars.
Beer Buckets and Baby Jesus by Myra McEntire
Welcome to Christmas, CA by Kiersten White
The perfect Christmas story. Definitely deserves 5 stars.
Star of Bethlehem by Ally Carter
I loved the surprise twist. Of course, with it being Ally, I was kind of expecting the main character to be something else (not saying, just so I don't spoil anything). But I love anything she writes, so 4/5 stars.
The Girl Who Woke the Dreamer by Laini Taylor
Didn't feel Christmas-y enough. Ended up skimming most of it. 2/5 stars.
The Verdict: Depending on if a few of your favorite authors wrote for this anthology, I think this could be an enjoyable read. Perfect for Christmastime or even Christmas in July.