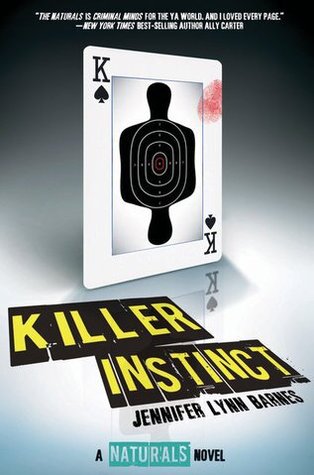 Killer Instinct by Jennifer Lynn Barnes
Grade: A+
Release date: November 7, 2014
This ARC was provided by Disney Hyperion in exchange for an honest review.
Summary:
Seventeen-year-old Cassie Hobbes has a gift for profiling people. Her talent has landed her a spot in an elite FBI program for teens with innate crime-solving abilities, and into some harrowing situations. After barely escaping a confrontation with an unbalanced killer obsessed with her mother's murder, Cassie hopes she and the rest of the team can stick to solving cold cases from a distance.
But when victims of a brutal new serial killer start turning up, the Naturals are pulled into an active case that strikes too close to home: the killer is a perfect copycat of Dean's incarcerated father—a man he'd do anything to forget. Forced deeper into a murderer's psyche than ever before, will the Naturals be able to outsmart the enigmatic killer's brutal mind games before this copycat twists them into his web for good?
The Good, the Bad, and the Ugly: I am trying so hard to write this review in English and not fangirl. One of my favorite parts was on page 30 where we get one of the first POVs from the new killer. Before I'd even read the last sentence on the page, I thought, It has begun. Wanna know what the last sentence on page 30 was? I'm sure y'all have a pretty good guess.
All of the characters receive strong development. We learn more about how each one ticks and why they are the way they are. The semi-love triangle from book one continues, but it takes a backseat to the character development and overall plot. I will say this: it's completely resolved by the end of Killer Instinct, and I am happy with its resolution. Back to the character growth, though. It was interesting to observe that Cassie has a bit of PTSD, from the events of The Naturals (I'm sure any sane person would). Her friendship with Sloane grows, and that was exciting. Lia continues to clash with Cassie a bit, but Lia is still seen as a strong female character. We also meet Agent Sterling, and she's pretty awesome, as well. Jennifer Lynn Barnes excels at writing women who are strong in a variety of ways. Plus, we got to know Dean's father. Let me just say, that man is creepy, and I can't even begin to imagine what Dean went through as a kid.
I was kept guessing throughout the entire book, although I did have my suspicions and I was more right this time than last. That's all I'll say on that subject because part of the fun is the guessing game. So if you're coming here for spoilers as to who the killer is...I won't be spilling the beans.
Violence is as bad as last time. The serial killer's methods are described a fair bit, so if anything along those lines would be a trigger for you, then you might want to avoid this book. Romance-wise, kissing happens and other stuff (an affair and so forth) are mentioned but not described. One of the best moments for me was the description of hand-holding between two characters. I won't say who, but it got me very excited and I actually posted on Goodreads: I've never been so into a description of hand-holding. Language is pretty clean, too.
The Verdict: Overall, I found Killer Instinct to be an even stronger book than The Naturals, and I absolutely loved both. I definitely need more books in the series. Oh, and that cover? It's very important to the book. ;) I'll finish this review with some favorite (non-spoilery) quotes (all taken from my ARC, so they may be different in the final edition).
"Self-preservation was not Michael's strong suit."
"Come on Dean... You don't have to dance. Just brood in beat to the music."
"Maybe, to do what you and I do, we have to have a little bit of the monster in us."