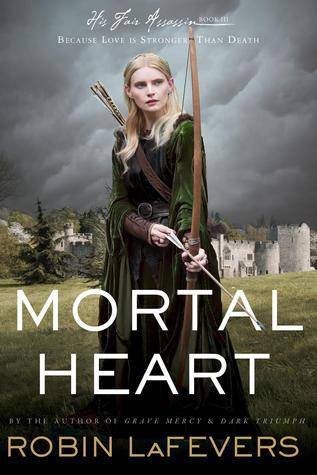 Mortal Heart by Robin LaFevers
Grade: A-
Release date: November 4, 2014
This ARC was provided by a fellow blogger. Thanks, Dawn!
Summary:
Annith has watched her gifted sisters at the convent come and go, carrying out their dark dealings in the name of St. Mortain, patiently awaiting her own turn to serve Death. But her worst fears are realized when she discovers she is being groomed by the abbess as a Seeress, to be forever sequestered in the rock and stone womb of the convent. Feeling sorely betrayed, Annith decides to strike out on her own.
She has spent her whole life training to be an assassin. Just because the convent has changed its mind doesn't mean she has.
But across Brittany, the tides of war are drawing ever nearer, with France pressuring the beleaguered duchess from all sides. Annith's search for answers threatens to rip open an intricate web of lies and deceit that sit at the heart of the convent she serves. Yet to expose them threatens the very fabric of her existence and risks an unforeseen chance at love, one that she can no longer deny. Annith must carefully pick a path and, gods willing, effect a miracle that will see her country—and her heart—to safety.
**Warning: potential spoilers for Grave Mercy and Dark Triumph**
The Good, the Bad, and the Ugly:
Erhmahgawsh. This book. My thoughts are going to be so hard to sum up because this was the first physical review book I've read since coming to college. I took lots of notes on mini Post-Its though, so here's my random jumble of thoughts. I loved getting a different view of the convent and learning secrets that were clearly brewing under the surface since
Grave Mercy
. Annith is amazing, y'all. She's so incredibly smart and manipulative for someone who seemed so demure, and I
loved
it. However, I felt like her narration sounded too similar to Ismae's. Butbutbut, I enjoyed seeing how much each book's title plays into the story.
One of the best parts of Mortal Heart was learning so much about Arduinna and her followers. They are so awesome, y'all. And I loved having all three girls together again. Their friendship still needed more development (we're mainly just told they're friends), but I could tell Ismae, Sybella, and Annith genuinely cared about each other.
And then you get to about page 305, and the bombshells just kept coming. I will say I didn't like one of them (it was just...weird for me), but most of them worked (especially the one about Salonius).
Y'all are gonna hate me for this, but I felt no chemistry in the romance. It felt under-developed to me, and I couldn't see where it was coming from, except for a desire to be loved by someone.
However, this trilogy is some of the best historical fiction I've ever read.
Favorite quotes (no spoilers):
"For all your love and affection and kindness, there is always a part of yourself that you withhold from others."
"When one has made as many mistakes as I have, one becomes very familiar with the fullness of God's grace and mercy."
"Your mortal heart shines like a candle flame and I, like one of those hapless black moths you used to leave as offerings, am helpless before its lure."
The Verdict: An awesome book with a great protagonist, but there are a few faults that lessened my overall enjoyment. Still, it's a great trilogy that I definitely want more of.