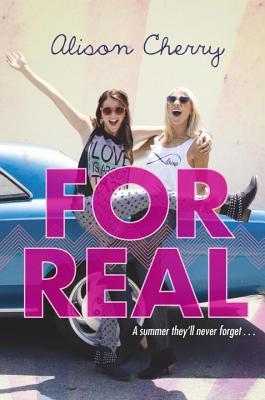 For Real by Alison Cherry
Grade: B
Release date: December 9, 2014
This e-galley was provided by Delacorte Press and NetGalley in exchange for an honest review.
Summary:
Shy, cautious Claire has always been in her confident older sister's shadow. While Miranda's life is jam-packed with exciting people and whirlwind adventures, Claire gets her thrills vicariously by watching people live large on reality television.

When Miranda discovers her boyfriend, Samir, cheating on her just after her college graduation, it's Claire who comes up with the perfect plan. They'll outshine Miranda's fame-obsessed ex while having an amazing summer by competing on Around the World, a race around the globe for a million bucks. Revenge + sisterly bonding = awesome.

But the show has a twist, and Claire is stunned to find herself in the middle of a reality-show romance that may be just for the cameras. This summer could end up being the highlight of her life . . . or an epic fail forever captured on film. In a world where drama is currency and manipulation is standard, how can you tell what's for real?
The Good, the Bad, and the Ugly: I didn't read Alison Cherry's debut, Red. It just didn't sound like my cup of tea. But when I read the synopsis for For Real, I was super pumped. I love strong sister relationships and getting a look at different reality shows is always fun.
As I got into the book, I found that characters were sometimes stereotypical (the awful ex, the older sister that everyone wants, the awkward protagonist, the "frat boy" who turns out to have a heart of gold, etc.), but I enjoyed most of them. Several of the characters had layers that were interesting to discover (particularly Will). Samir was just awful enough that it got the point across. Although how Miranda ever fell for him is beyond me. I liked that there was additional conflict with the whole idea of the show and the tension between Miranda and Claire. For Real would've been a very boring book, had it only been a revenge story. I'm also glad every single challenge wasn't described because that would've gotten tedious. Additionally, I was pleasantly surprised by the note the romance ended on. By and far, this is a book about a sister relationship and while romance has its prominent moments, it definitely took a backseat to Miranda and Claire. It was good to see the former realize her little sister isn't the image she's had in her mind for several years. Claire made solid, noteworthy choices: she was self-sacrificial, clever, and just naive enough to not seem foolish.
Language was mostly PG, and romance on the pages was PG as well (although some things were implied and discussed). Violence was minimal.
The Verdict: A fun read, particularly in a book market swamped with romance.