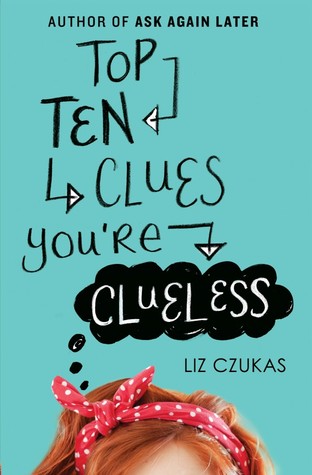 Top Ten Clues You're Clueless by Liz Czukas
Grade: A
Release date: December 9, 2014
Summary:
Top Five Things That Are Ruining Chloe's Day
5) Working the 6:30 a.m. shift at GoodFoods Market
4) Crashing a cart into a customer's car right in front of her snarky coworker Sammi
3) Trying to rock the "drowned rat" look after being caught in a snowstorm
2) Making zero progress with her crush, Tyson (see #3)
1) Being accused—along with her fellow teenage employees—of stealing upwards of $10,000
Chloe would rather be anywhere than locked in work jail (aka the break room) with five of her coworkers . . . even if one of them is Tyson. But if they can band together to clear their names, what looks like a total disaster might just make Chloe's list of Top Ten Best Moments.
The Good, the Bad, and the Ugly: If I hadn't read this book in public, I would've continually jumped up and down, squealed, and flailed because of the cuteness. Basically, I shipped Chloe and her crush from page 12. But Top Ten Clues You're Clueless is so much more than a love story. It's been compared to The Breakfast Club and I could definitely see influences of that. The six teens discuss deep issues and more superficial things. They come to know each other better, and they learn to respect each other's diversities. They're just awesome in general, y'all. I loved their little nerd elements. Also, I'd just like to stake claim to Micah because that boy is precious, smart, and swoonworthy. And coming from a former homeschooler, it was good to see a character who met some of the stereotypes (because, let's be honest, we do fit some of them) but then broke the rest. I also adore characters who make lists (like Mallory in Going Vintage), so I of course fell in love with Chloe and her quirks. This was a very quick read and the main focus isn't the mystery of who stole the money. Instead, the focus is the six teens maturing, learning, and making friends. And that's what has made Top Ten Clues one of my favorite books of 2014.
There is some language (uses of the f-word and s-word) and talk of some sexual stuff, but it's all pretty minimal.
The Verdict: This may be in my top 5 favorite contemporaries of 2014 (if you want to know the others, they're The Start of Me and You, Don't Touch, Like No Other, and Since You've Been Gone). So get on it and read Top Ten Clues You're Clueless.