The Author
Heidi grew up in Hawaii where she rode horses and raised peacocks, and then she moved to New York City and grew up even more, as one tends to do. Her favorite thing, outside of writing, is travel, and she has haggled for rugs in Morocco, hiked the trails of the Ko'olau Valley, and huddled in a tent in Africa while lions roared in the dark.
She holds an MFA from New York University in Musical Theatre Writing, of all things, and she's written books and lyrics for shows including The Time Travelers Convention, Under Construction, and The Hole. She lives in Brooklyn with her husband and their pet snake. They do not own a cat.
The Book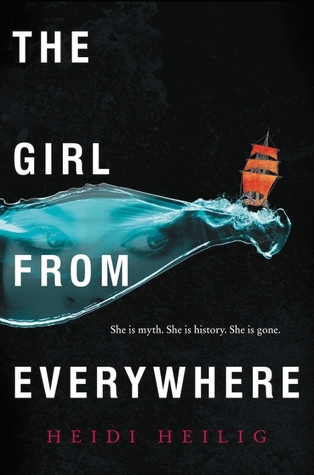 Nix has spent her entire life aboard her father's ship, sailing across the centuries, across the world, across myth and imagination.
As long as her father has a map for it, he can sail to any time, any place, real or imagined: nineteenth-century China, the land from
One Thousand and One Nights
, a mythic version of Africa. Along the way they have found crewmates and friends, and even a disarming thief who could come to mean much more to Nix.
But the end to it all looms closer every day.
Her father is obsessed with obtaining the one map, 1868 Honolulu, that could take him back to his lost love, Nix's mother. Even though getting it—and going there—could erase Nix's very existence.
For the first time, Nix is entering unknown waters.
She could find herself, find her family, find her own fantastical ability, her own epic love.
Or she could disappear.
The Interview
Emma: How does it feel now that The Girl from Everywhere has been published?
Heidi: It's a few days later and I'm only now starting to recover! The reception to the book has been overwhelming and beautiful and so very exciting. But time is short, and I don't have much to waste relaxing, because the next book is in edits and I'm also starting a new series. So, I suppose I'm feeling tired and thrilled all at once.

Emma: If you could use one of Nix's and her father's maps to travel anywhere, where would you go?
Heidi: I would love to go to Almaas, where Kashmir was born. I would love wandering through the city where he learned to steal and survive, and visiting the nearby valley where diamonds lay among the serpents crawling on the dusty earth.

Emma: Where do you go to research for your books?
Heidi: Research took me from downtown Honolulu, where I paced out the scenes set in town, to the Cape of Good Hope in South Africa where I observed some of the most dangerous seas in the world, to the General Society of Tradesmen in Manhattan, where I learned to pick locks. I also spent a tremendous amount of time reading old myths and looking at maps on the internet.

Emma: Will you keep writing historical fantasy or are there other genres you're interested in?
Heidi: My next planned series is a bit heavier on the fantasy, but it's still inspired by bits and pieces of history—there's so much epic beauty and horror to be found in the past. Sometimes history is honestly stranger than fiction, and the only way a reader would give a story point a pass is knowing that it actually happened in real life. I like being able to access and play with those crazy realities in fiction.

Emma: I know you studied writing for musical theatre. What are your favorite musicals? Are there any whose songs have influenced a scene in one of your novels?
Heidi: My favorite show of all time is Hedwig and the Angry Inch—the rock score is such great writing music. I also love The King And I, for the unrequited yearning of the love story. I'm a sucker for unrequited yearning.

Emma: What are some of your favorite recent YA releases?
Heidi: I've loved every Sam Vimes book by Terry Pratchett, because he's such a dogged and self-destructive character. The same goes for Pellinore Warthrop in THE MONSTRUMOLOGIST series by Rick Yancey—I can't get enough of people driven to the edge. A very recent favorite is Riley from SYMPTOMS OF BEING HUMAN—they're a perfect combination of wit and anxiety.

Emma: What's the weirdest writing advice you've received?
Heidi: I've never understood the whole "just keep writing even if it's only la la la" advice. For me, if the words aren't flowing, it means I need to sit back and think more, or do some more research and reading.

Emma: Do you have a favorite fairytale and why?
Heidi: Beauty and the Beast has always been a favorite story to me, especially retellings from the perspective of the Beast. One of my deep fears is that I'm unlovable—who hasn't been afraid of that?—and I love stories that end with monsters being loved. (See my love for Hedwig and the Angry Inch above.)

Emma: And, just for funsies: donuts or cookies?
Heidi: DONUTS!
You can find Heidi and The Girl from Everywhere at the links below: