Want to participate in Random Fridays? Just do the following:
Include the above image in your post and link back to my post.

Blog about this week's topic.

Add the link to your Random Friday at the bottom of this post.
I don't know about y'all, but I love bookmarks. I refuse to dog-ear pages; in fact, if that's what you do, don't ev
en tell me.
Anyways, I'm super picky about my bookmarks, though. I usually prefer the magnetic ones since they don't slip out easily but they've been known to rip my books' pages if I pull it or the book the wrong way. I have some classic long, tasseled bookmarks that I like too.
I'm in love with Happy Hello Art's magnetic bookmarks, designed to look like some of my favorite YA book characters. However, they sell out outrageously fast. (I should know; as of writing this post, I just bought the last Cath/Levi set and an Anna/St. Clair set.)
She also has a Nancy Drew bookmark, a Six of Crows set, two Throne of Glass sets, and two Lunar Chronicles sets.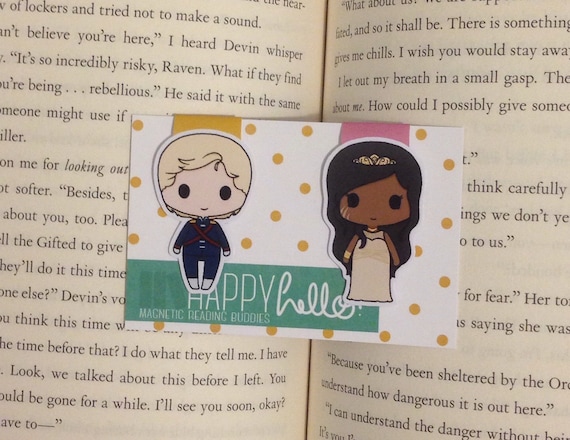 (I'd provide a link, but Jacin and Winter will probably be sold out before this post goes up.)
But my favorite magnetic bookmarks are probably these:
My mom bought them for me ages ago, and they're a little worn out now, but I still love them. I actually lost the little beret-wearing dog in Chicago back in 2013, so that tells you how long I've had them. My Secret Sister, Veronica, gave me the London set for Christmas and I love them, too.
So what type of bookmarks do you use? Do you have any favorites?