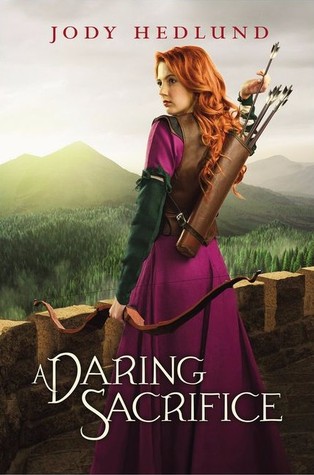 A Daring Sacrifice by Jody Hedlund
Grade: D
An e-galley was provided by the publisher via NetGalley in exchange for review consideration.
Summary:
In a reverse twist on the Robin Hood story, a young medieval maiden stands up for the rights of the mistreated, stealing from the rich to give to the poor. All the while, she fights against her cruel uncle who has taken over the land that is rightfully hers. Forced to live in the woods and hide with the poor people she's grown to love, she works to save and protect them, but she never anticipates falling in love with the wealthy knight who represents all she's come to despise.
The Good, the Bad, and the Ugly: I quite enjoyed Jody's first book in this companion series, An Uncertain Choice, so I don't know what went wrong, but A Daring Sacrifice struggled in a lot of areas. There was too much telling, not enough showing. Juliana, the heroine, and Collin, the hero, fell in love much too fast, and their relationship progressed too quickly. He started calling her "sweetheart," which I think was supposed to be snarky and endearing but just rubbed me the wrong way. I couldn't understand why they liked each other beyond the fact that I knew they were supposed to end up together.
Also, I felt Juliana was too much of a damsel in distress. I was told she was a good warrior and thief, but I never really got that sense since most of her time on page wasn't spent fighting. She had to be rescued more than Collin, and she spent a lot of time injured or pretending to be a refined lady.
I skimmed a lot. A Daring Sacrifice wasn't very engaging. It's not worth your time, really.
The Verdict: Eh, not that great.
Will I be adding this book to my library?: Nope.