I'm going to do this review a lot like my review of My True Love Gave to Me.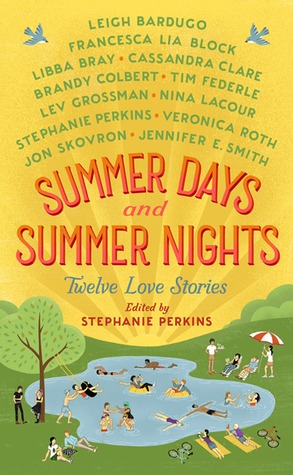 Summer Days & Summer Nights by various authors, edited by Stephanie Perkins
Grade: C
Release date: May 17, 2016
An e-galley was provided by the publisher in exchange for review consideration.
Summary:
Maybe it's the long, lazy days, or maybe it's the heat making everyone a little bit crazy. Whatever the reason, summer is the perfect time for love to bloom.
Summer Days & Summer Nights: Twelve Love Stories
, written by twelve bestselling young adult writers and edited by the international bestselling author Stephanie Perkins, will have you dreaming of sunset strolls by the lake. So set out your beach chair and grab your sunglasses. You have twelve reasons this summer to soak up the sun and fall in love.
The Good, the Bad, and the Ugly: As I started reading this anthology, there wasn't that same spark that I felt with My True Love Gave to Me. In fact, my overall average rating was only 3.18 stars. Still, there were two stories that really redeemed this anthology. However, I wanted more summer feels. I really grasped the winter/Christmas/Hanukkah feel in the first anthology, but Summer Days didn't feel warm and summery. Anyways, now I'll do little reviews of each story.
Head, Scales, Tongue, Tail by Leigh Bardugo
Started off a little weird, but I got into it. It was weird to read something of Leigh's that wasn't set in a true fantasy world, but I liked the magical realism aspect. 4/5 stars.
The End of Love by Nina LaCour
I skimmed this one because I wasn't feeling the narration or connecting with the characters. 1/5 stars.
Last Stand at the Cinegore by Libba Bray
Eh. I don't do horror, and there was waaaayyyyy too much swearing for my tastes. 1/5 stars.
Sick Pleasures by Francesca Lia Block
The naming of the characters was weird. The story overall was too meta. 3/5 stars.
In Ninety Minutes, Turn North by Stephanie Perkins
I lovelovelovelove that we got to see North and Marigold again. Not gonna lie, I'd love to see other couples from the My True Love Gave to Me anthology again, too. Anyways, I liked that it wasn't all smooth sailing for them. 4/5 stars.
Souvenirs by Tim Federle
Not terrible, but not the best either. Not really my cup of tea. I give it 3 stars.
Inertia by Veronica Roth
Not gonna lie, it was strange to read something of Veronica's that wasn't set in the Divergent-verse, but I ended up liking it. It had a slow start and an interesting premise. 4 stars.
Love is the Last Resort by Jon Skovron
The protagonist spoke so formally for a teenager, and I didn't like the writing style. It was unrelatable. I skimmed most of the end. 2 out of 5 stars.
Good Luck and Farewell by Brandy Colbert
I enjoyed this one so much. I warmed to the love interest, and I loved the setting and how a friendship was really important too. There was a lot of character development, which was fantastic to see in a short story. 5 stars, definitely.
Brand New Attraction by Cassandra Clare
Read the first page and then skipped it. I have no interest in anything Cassandra writes. No rating.
A Thousand Ways this Could All Go Wrong by Jennifer E. Smith
This is the type of Jennifer E. Smith writing I love. Realistic and slightly awkward characters that don't know all the right things to say or do. I loved seeing how Griffin and Annie fell for each other. I want a whole book about them. 5 stars.
The Map of Tiny Perfect Things by Lev Grossman
Interesting premise. Failed a little in the execution, but I definitely didn't hate this story. 3/5 stars.
The Verdict: I think, overall, I liked My True Love Gave to Me better, but dear heavens, I hope Stephanie organizes more of these anthologies. One for each season...different holidays...whatever. I'll take it.
Will I be adding this book to my library?: Yeah. Mainly for that cover and the two stories that I loved.