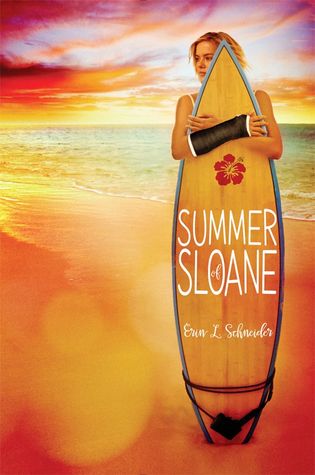 Summer of Sloane by Erin L. Schneider
Grade: C-
An e-galley was provided by the publisher via NetGalley in exchange for review consideration.
Summary:
Warm Hawaiian sun. Lazy beach days. Flirty texts with her boyfriend back in Seattle.
These are the things seventeen-year-old Sloane McIntyre pictured when she imagined the summer she'd be spending at her mom's home in Hawaii with her twin brother, Penn. Instead, after learning an unthinkable secret about her boyfriend, Tyler, and best friend, Mick, all she has is a fractured hand and a completely shattered heart.
Once she arrives in Honolulu, though, Sloane hopes that Hawaii might just be the escape she needs. With beach bonfires, old friends, exotic food, and the wonders of a waterproof cast, there's no reason Sloane shouldn't enjoy her summer. And when she meets Finn McAllister, the handsome son of a hotel magnate who doesn't always play by the rules, she knows he's the perfect distraction from everything that's so wrong back home.
But it turns out a measly ocean isn't nearly enough to stop all the emails, texts, and voicemails from her ex-boyfriend and ex-best friend, desperate to explain away their betrayal. And as her casual connection with Finn grows deeper, Sloane's carefree summer might not be as easy to find as she'd hoped. Weighing years of history with Mick and Tyler against their deception, and the delicate possibility of new love, Sloane must decide when to forgive, and when to live for herself.
The Good, the Bad, and the Ugly: I love a good summer romance as much as the next person (sometimes more, if it's well-written or well-acted). But Summer of Sloane fell short. I wanted a story of self-discovery and independence and instead got one of angst and romance drama. I was behind Sloane when she wasn't ready to reply to Tyler and Mick's emails, texts, and phone calls. I liked that she had the initiative to go out and get a job (although it fell into her hands a bit too conveniently). The writing was mediocre, and I felt like some things were unrealistic. But the romance plot lines were what really drove me away from liking Summer of Sloane. (WARNING: SPOILERS AHEAD.)
There was too much miscommunication between Sloane and Finn. At the end, I was really rooting for her to not take him back even if she could offer forgiveness (because that would be character growth). But apparently the whole thing was just a big misunderstanding. Still, he was a petty, jealous guy and I couldn't get behind that. Sloane's ex isn't any better; he literally flies all the way to Hawaii to win her back, and I don't think I know any parents that would do that. (But then again, it might be because the main characters all seem fairly privileged; at one point, for example, Finn talks about getting to choose which university he attends, and they're all Ivy League or top-tier schools. Most kids are fortunate if they even get accepted to one of those schools.) There's a ton of drama, too, with Sloane's brother and her Hawaii friend, Mia. I did not sign up for that.
There was a generous amount of foul language, especially the f-bomb and the s-word. Lots of talk of sleeping together, and there is underage drinking (and Finn makes a pretty stupid choice while drunk).
The Verdict: If you love stories with drama, Summer of Sloane would be great for you. Otherwise, I'd pass on it.
Will I be adding this book to my library?: No.