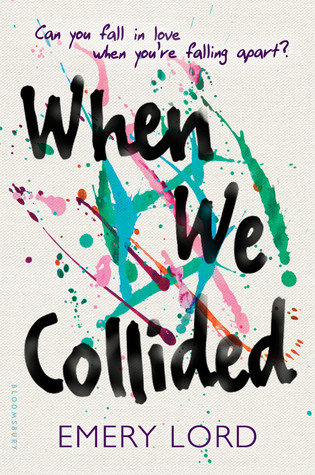 When We Collided by Emery Lord
Grade: B
Summary:
Meet Vivi and Jonah: A girl and a boy whose love has the power save or destroy them.
Vivi and Jonah couldn't be more different. Vivi craves anything joyful or beautiful that life can offer. Jonah has been burdened by responsibility for his family ever since his father died. As summer begins, Jonah resigns himself to another season of getting by. Then Vivi arrives, and suddenly life seems brighter and better. Jonah is the perfect project for Vivi, and things finally feel right for Jonah. Their love is the answer to everything. But soon Vivi's zest for life falters, as her adventurousness becomes true danger-seeking. Jonah tries to keep her safe, but there's something important Vivi hasn't told him.
The Good, the Bad, and the Ugly: It's happened. I never thought it would. But it has: I didn't completely love an Emery Lord novel. The Start of Me and You was one of the best things that ever happened to me and Open Road Summer inspires the same warm nostalgic feel in my gut whenever I think about it. So why didn't this happen with When We Collided?
When We Collided was much darker than Emery's previous books, even when Paige was dealing with grief and her fears in The Start of Me and You. I could feel Jonah's grief and struggle just as poignantly as I felt Paige's. Vivi, though, was going through something different. She seemed like she was in a upward spiral that would suddenly end in a broken off cliff and her only options would be to plunge off the edge or slowly trek down. I had a feeling she would plunge. She was wild and uncorraled (which apparently isn't a word, but it should be), and I think some guidance and a few restrictions would've been effective. Her mom was not a terrible mom by any means (YA has a lot of those, so I would know) but I felt she didn't parent effectively. I loved the storyline about Vivi's dad, though, and would've liked a little more build-up for that earlier on. In addition, I felt Vivi was too unrealistic at times - too out there and larger than life. Maybe that's part of her bipolar disorder, something I haven't seen in too many people I know in real life. But I felt like her dramatic personality was a bit too much for me.
Jonah was great, though. I obviously can't say if his perspective was accurate to a teen guy, but it was distinguishable from Vivi's. I loved how hard he worked and how much he cared - both about Vivi and his family. There's a quote towards the end of WWC that goes, "My cheeks are wet, but oh, my heart - it is so full" (pg. 328 of my ARC). Jonah's heart is so full, y'all. I loved how he liked his small town but he did want to leave. He didn't disparage Verona Cove, but he knew it wasn't the right place for him to spend the rest of his life. I loved hearing about his food passions (and believe me, I have recipe ideas brewing in my head for From the Bookshelf to the Kitchen). His family was great. I think I wanted a little more fleshing out for his younger sister Bekah and I almost wanted a flashback or a descriptive memory of the family before his dad died. Those would've made more of a good thing.
WWC has more foul language and sexual content than Emery's previous books, and neither of those are really my thing. That might've contributed to why I didn't love When We Collided.
The Verdict: I don't have that warm happy feeling in my gut like I get with Emery's first two books. But I still enjoyed When We Collided.
Will I be adding this book to my library?: Already have.