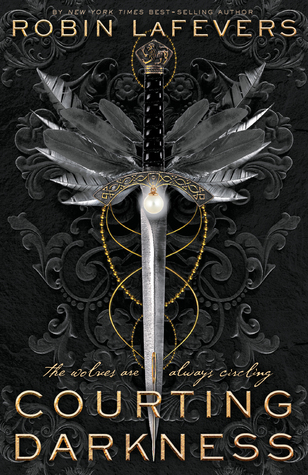 Courting Darkness by Robin LaFevers
Grade: B
Release date: February 5, 2019
I acquired my ARC through a book trade.
Summary:
Sybella has always been the darkest of Death's daughters, trained at the convent of Saint Mortain to serve as his justice. But she has a new mission now. In a desperate bid to keep her two youngest sisters safe from the family that nearly destroyed them all, she agrees to accompany the duchess to France, where they quickly find themselves surrounded by enemies. Their one ray of hope is Sybella's fellow novitiates, disguised and hidden deep in the French court years ago by the convent—provided Sybella can find them.
Genevieve has been undercover for so many years, she struggles to remember who she is or what she's supposed to be fighting for. Her only solace is a hidden prisoner who appears all but forgotten by his guards. When tragedy strikes, she has no choice but to take matters into her own hands—even if it means ignoring the long awaited orders from the convent.
As Sybella and Gen's paths draw ever closer, the fate of everything they hold sacred rests on a knife's edge. Will they find each other in time, or will their worlds collide, destroying everything they care about?
The Good, the Bad, and the Ugly: What a joy it was to return to the world of the His Fair Assassin trilogy. I was a bit tentative, just because Sybella's book has never been my favorite, but I was eager to meet Genevieve.
Although Sybella's chapters were definitely better (in my opinion) than Dark Triumph, I found myself eagerly anticipating Genevieve's chapters more. I was intrigued about the hidden prisoner, Genevieve's past, and how she and Sybella would end up in the same place.
It was fascinating to read about all the different power plays, and the different women. From Sybella to Anne (Duchess of Brittany and Queen of France), the regent to Margot, there is a lot of variety of personality. Of course Anne is still one of my favorites.
I loved the romantic tension that brewed between Genevieve and the mysterious guy. (I had my guesses early on about who he was, and I was RIGHT. Huzzah!) She's got a lot of walls and history that prevent anything from working out for now, but I have hopes they'll find each other again.
It was interesting to see just how many of the male characters, deep down (or even on the surface), are jerks. From Sybella's brother, who's stirring up trouble, to the king, it's hard to trust any of them. Beast is still an upstanding man, of course. And I definitely think Genevieve's mystery guy is one of the good guys. But I'm looking forward to how things go in the second book.
Plot-wise, the pacing is a bit slow, even for a book about assassin nuns. Courting Darkness really takes things back to the court intrigue featured in Grave Mercy, so if that's not your cup of tea, then you might want to pass on this book.
Content warnings: Plenty of violence. References to past sexual abuse. More sexual content on-page than with the past HFA books.
The Verdict: Good. That title is apt, though.
Will I be adding this book to my library?: Of course.