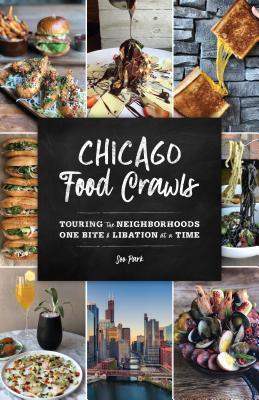 Chicago Food Crawls by Soo Park
Grade: C
An e-galley was provided by Globe Pequot Press via NetGalley in exchange for an honest review.
Summary:
The essential guide to eating your way through the Windy City. In Globe's newest approach to food by city, Chicago Food Crawls will take the reader on a fun, tasty culinary tour. Discover the hidden gems and long-standing institutions of Chicago neighborhoods. Experience more than 13 crawls, each featuring 3-8 establishments, centered on a neighborhood or theme. Each tour is the complete recipe for a great night out, the perfect tourist day, a new way to experience your own city, or simply food porn and great stories to enjoy from home.
The Good, the Bad, and the Ugly: This book was okay. It provided a wide variety of establishments to visit. The formatting of my e-galley made it awfully hard to read, so if this is something you want to pick up, I'd recommend a physical copy. Also I feel like this works better as a blog series, or even an article series. Both those mediums can be more easily updated if a menu changes or a restaurant goes out of business.
The Verdict: Meh.
Buy: Read Between the Lynes Barnes & Noble
Will I be adding this book to my library?: No
Hurricane Season by Nicole Melleby
Grade: C-
Release date: May 7, 2019
An ARC was provided by Algonquin Books for Young Readers in exchange for an honest review.
Summary:
Fig, a sixth grader, wants more than anything to see the world as her father does. The once-renowned pianist, who hasn't composed a song in years and has unpredictable good and bad days, is something of a mystery to Fig. Though she's a science and math nerd, she tries taking an art class just to be closer to him, to experience life the way an artist does. But then Fig's dad shows up at school, disoriented and desperately searching for Fig. Not only has the class not brought Fig closer to understanding him, it has brought social services to their door.
Diving into books about Van Gogh to understand the madness of artists, calling on her best friend for advice, and turning to a new neighbor for support, Fig continues to try everything she can think of to understand her father, to save him from himself, and to find space in her life to discover who she is even as the walls are falling down around her.
The Good, the Bad, and the Ugly:
There were just so many male characters?? I wanted more girls. Also the voice felt a little old at times. The book didn't always read like middle grade, even with a young protagonist. The themes were good, using a school project as a way for Fig to consider her dad's behavior more, but it just didn't work.
Content warnings: bipolar disorder, references to Van Gogh's suicide.
The Verdict: Unfortunately, the pretty cover is a bit misleading.
Will I be adding this book to my library?: No.