Y'all, when I got asked to be on the blog tour for Sorcery of Thorns, I was SO excited. This was definitely one of my most anticipated books of 2019, and I kept hearing lots of good things from other bookish people. And, as you're about to read in my review, it definitely lived up to the hype.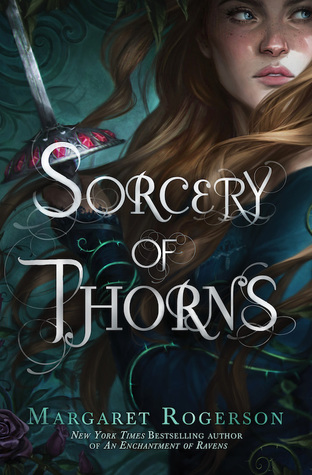 Sorcery of Thorns by Margaret Rogerson
Grade: A
Release date: June 4, 2019
An ARC was provided by Simon & Schuster in exchange for an honest review.
Summary:
All sorcerers are evil. Elisabeth has known that as long as she has known anything. Raised as a foundling in one of Austermeer's Great Libraries, Elisabeth has grown up among the tools of sorcery—magical grimoires that whisper on shelves and rattle beneath iron chains. If provoked, they transform into grotesque monsters of ink and leather. She hopes to become a warden, charged with protecting the kingdom from their power.

Then an act of sabotage releases the library's most dangerous grimoire. Elisabeth's desperate intervention implicates her in the crime, and she is torn from her home to face justice in the capital. With no one to turn to but her sworn enemy, the sorcerer Nathaniel Thorn, and his mysterious demonic servant, she finds herself entangled in a centuries-old conspiracy. Not only could the Great Libraries go up in flames, but the world along with them.

As her alliance with Nathaniel grows stronger, Elisabeth starts to question everything she's been taught—about sorcerers, about the libraries she loves, even about herself. For Elisabeth has a power she has never guessed, and a future she could never have imagined.
The Good, the Bad, and the Ugly: I always tell people I like fantasy books, and yet...at the end of the year when I do my round-ups, my favorites tend to be contemporary. But it's books like Sorcery of Thorns that are the reason I do still love fantasy.
I fell in love with Margaret's first book, An Enchantment of Ravens, and her sophomore novel is more of the same. It has straightforward but beautiful prose. The writing is never overly flowery, but Rogerson knows how to describe things well. For example, early in the book, she describes a moss spirit, and I could picture it so well. Rogerson has created such a lush world that is almost steampunk at times, and a bit more modern than the typical fantasy.
If you're a fan of enemies-to-lovers romance, Elisabeth and Nathaniel's relationship sort of follows that pattern. Elisabeth has been taught all her life that sorcerers are dangerous and to be avoided, so when she must work with one, it creates interesting dynamics. Other great relationships: Silas and Nathaniel, Silas and Elisabeth (Silas swears he doesn't/can't care for any human, but he is a LIAR), and Elisabeth and Katrien. I did want a little more of Elisabeth and the Director's background, because the Director is kind of a driving factor for Elisabeth.
Sorcery of Thorns is really a love letter to libraries and book lovers everywhere, and it feels masterfully done. Some of the plot beats are a bit predictable, but I cared so much about the characters that the book continued to keep me on my toes.
Content warnings: violence, blood, psychological abuse, mind invasion
The Verdict: If you're looking for a solid, non-Fae YA fantasy, you need to read Sorcery of Thorns.
Margaret Rogerson is the author of the New York Times bestseller An Enchantment of Ravens and Sorcery of Thorns. She has a bachelor's degree in cultural anthropology from Miami University. When not reading or writing she enjoys sketching, gaming, making pudding, and watching more documentaries than is socially acceptable (according to some). She lives near Cincinnati, Ohio, beside a garden full of hummingbirds and roses. Visit her at MargaretRogerson.com.