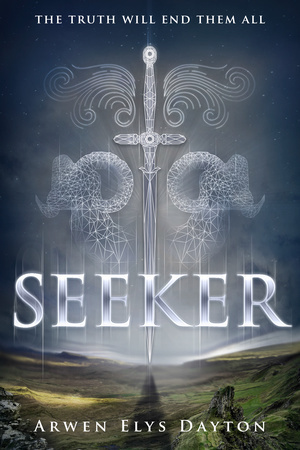 Seeker by Arwen Elys Dayton
Grade: DNF
Release date: February 10, 2015
This e-galley was provided by Delacorte and NetGalley in exchange for an honest review.
Summary:
For readers of
A Game of Thrones
and
The Hunger Games
comes an epic new series.
The night Quin Kincaid takes her Oath, she will become what she has trained to be her entire life. She will become a Seeker. This is her legacy, and it is an honor. As a Seeker, Quin will fight beside her two closest companions, Shinobu and John, to protect the weak and the wronged. Together they will stand for light in a shadowy world. And she'll be with the boy she loves--who's also her best friend.
But the night Quin takes her Oath, everything changes. Being a Seeker is not what she thought. Her family is not what she thought. Even the boy she loves is not who she thought.
And now it's too late to walk away.
When did I stop reading?: 32% into my e-galley (chapter 19)
Why didn't I finish?: It usually takes me 1-3 days to read a book. When I reached day 5 and I was only 32% in, I knew my heart wasn't into Seeker. I dreaded reading it, so I knew it wasn't worth it.
The Long(er) Review: I found Seeker to be rather slow-paced and uninteresting. I liked the chapters from Maud's POV, but too much information was being withheld and I didn't like feeling as if I should know more than I did. Additionally, I went into this, thinking it was fantasy but I think it's more futuristic, since portable televisions are mentioned and it seems to be set in Scotland.
The Verdict: Maybe Seeker just wasn't for me. I was rather looking forward to it, so the fact that I'm DNFing isn't fun. Perhaps this is another case of a pretty cover but bad book.