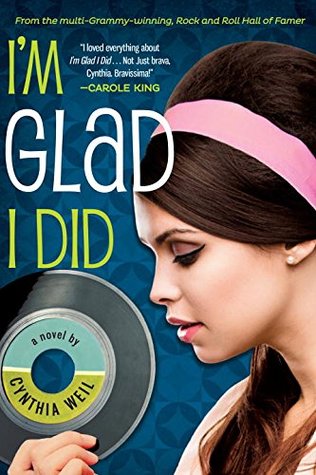 I'm Glad I Did by Cynthia Weil
Grade: B
Release date: January 27, 2015
This e-galley was provided by Soho Teen and Edelweiss in exchange for an honest review.
Summary:
Rock and Roll Hall of Famer and songwriting legend Cynthia Weil's extraordinary YA debut opens the secretive doors of the Brill Building-the hit factory that changed history. Part Mad Men, part Grace of my Heart, part murder mystery, I'm Glad I Did is a coming-of-age story at an unforgettable cultural tipping point: the summer of 1963.
JJ Greene, a gifted 16-year-old songwriter, defies her lawyer parents by secretly applying for a job in the famed Brill Building-the epicenter of songwriting for a new genre called rock-n-roll. But their warnings about the evils of the music industry prove far darker than she imagined when she finds herself at the heart of a cover-up that involves hidden identity, theft, and possibly murder.
The Good, the Bad, and the Ugly: I'm always looking for good historical fiction, particularly when there's good historical accuracy. I'm Glad I Did provided a great look into the music industry of the 1960s without info-dumping. I was interested throughout the entire book. JJ was a fun character, and she felt realistically like a teenager (with perhaps a bit too much freedom, but that's typical of many YA books). Her romance with Luke was sweet and developed a bit too fast in areas, but it was cute and made me think about movies set during this era. The mystery hinted at in the synopsis doesn't fully start until 30% in, but after that, it's firmly woven through the rest of the story, along with songwriting, romance, and family dynamics. One of my favorite moments was the following quote (taken from about 13% into my e-galley):
"...You can't always get what you want."
"That sounds like a song title," I grumbled.
She laughed again. "Nah, too negative. Bobby likes positive songs."
The foreshadowing in that moment was funny and perfect. (In case you don't know, "You Can't Always Get What You Want" is a Rolling Stones song released in 1969.) There are some interesting twists, and I think I'm Glad I Did was enjoyable overall.
One final note, though: the Greenes' Latina housekeeper is described as having pale coffee skin. It's irksome that people's physical appearances are still described using food terms, particularly when it only happens to POCs.
There was mild language, mild romance, talk of drinking and drug use.
The Verdict: If you enjoy historical fiction or books about music or mystery stories, this is definitely a book you'll want to read!
Buy: Read Between the Lynes Barnes & Noble
Will I be adding this book to my library?: Quite likely. My shelves always need more historical fiction, and I enjoyed this one enough to reread it.