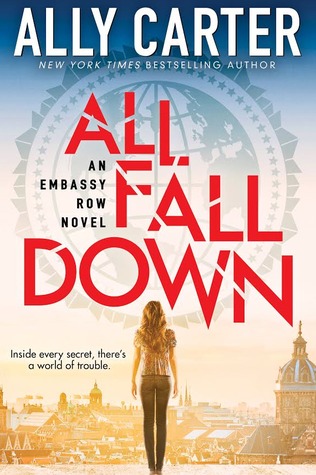 All Fall Down by Ally Carter
Grade: A-
This ARC was provided by Scholastic in exchange for an honest review.
Summary:
Grace can best be described as a daredevil, an Army brat, and a rebel. She is also the only granddaughter of perhaps the most powerful ambassador in the world and Grace has spent every summer of her childhood running across the roofs of Embassy Row.
Now, at age sixteen, she's come back to stay - in order to solve the mystery of her mother's death. In the process, she uncovers an international conspiracy of unsettling proportions, and must choose her friends and watch her foes carefully if she and the world are to be saved.
The Good, the Bad, and the Ugly: Holy whoa. I don't even know where to begin with this review. Ally Carter has created another fascinating world. She's gone from spies and thieves to diplomacy and the children/grandchildren of ambassadors and other officials. Grace Blakely is quite a different character from Cammie Morgan and Kat Bishop; she's broken and hurting and in a much darker place than both girls. But like two of my favorite heroines, she's a partial orphan (her mother is dead) and she can't resist adventure. Grace is more reckless than Cammie and Kat, which helps set her apart. She also shoves people away a lot more than either of Carter's previous heroines do. Grace has a heck ton of secrets - some that she doesn't even remember. Carter has woven a completely fictional world. Apart from the very real countries that have embassies in Adria, the setting is completely made up and very easy to envision. I loved getting to know the ins and outs of places like Embassy Row and Adria, and I was kept interested by the many people. No one is safe from suspicion in this novel (at least in my mind), but I definitely didn't see the plot twist coming until it was about to be revealed. Back to the secondary characters, though, there's about half a dozen that are extremely important - Ms. Chancellor, Noah, Rosie, Alexei, Megan, and Ambassador Vincent. The Scarred Man is the presumed antagonist, and you'll want to pay a lot of attention to him, too. I found myself with a soft spot for Rosie and rooting for Grace and Noah's friendship. There are hints of romance in All Fall Down, but they're rare. I can tell Grace's concerns are her mental health and her mother's death. I have hopes for a romance to blossom in future books in this series, but I know it will likely never be the main plot - which is good.
My few problems with All Fall Down consist of the following. I found some of the exposition to be tedious and a bit obvious. Ms. Chancellor shows Grace around the embassy, and Noah takes Grace on a tour of Embassy Row - even though she repeatedly tells both of them that she's been there before. I could tell it was mostly for the readers' benefit, to set the scene. Additionally, the writing style didn't flow well for me all the time. While the voice was very much still Ally Carter's, there were spots where the phrasing seemed like it was meant for a slightly younger YA audience (Gallagher Girls and Heist Society never felt like that to me). Finally, that cliffhanger was a bit too incomplete for me. Obviously, I'll read the rest of the series because I adore Ally Carter and her books, including this one, but I think such a cliffhanger is unnecessary.
My last note is this: as always with Carter's books, language is very clean. Like I said, romance is nonexistent. Violence isn't very graphic.
The Verdict: This is a must-read. If you liked Carter's previous series, then you definitely need to read All Fall Down. If you've read none of her books, then you need to get on that!
Will I be adding this book to my library?: Already did. Joseph-Beth had signed copies early!