Last spring, I had the honor of interviewing debut author, Anne Blankman, in conjunction with my review of the phenomenal Prisoner of Night and Fog. And now I get to interview her once again, in anticipation of Prisoner's sequel, Conspiracy of Blood and Smoke. Warning: spoilers abound for Prisoner, so proceed with caution!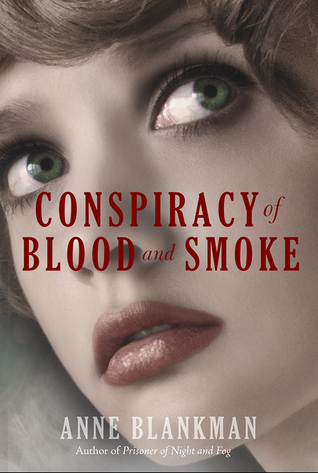 The girl known as Gretchen Whitestone has a secret: She used to be part of Adolf Hitler's inner circle. More than a year after she made an enemy of her old family friend and fled Munich, she lives with a kindly English family, posing as an ordinary German immigrant, and is preparing to graduate from high school. Her love, Daniel Cohen, is a reporter in town. For the first time in her life, Gretchen is content.
But then, Daniel gets a telegram that sends him back to Germany, and Gretchen's world turns upside-down. And when she receives word that Daniel is wanted for murder, she has to face the danger she thought she'd escaped-and return to her homeland.
Gretchen must do everything she can to avoid capture and recognition, even though saving Daniel will mean consorting with her former friends, the Nazi elite. And as they work to clear Daniel's name, Gretchen and Daniel discover a deadly conspiracy stretching from the slums of Berlin to the Reichstag itself. Can they dig up the explosive truth and get out in time-or will Hitler discover them first?
Anne Blankman may have been meant to be a writer because her parents named her for Anne of Green Gables. She grew up in an old house with gables (gray, unfortunately) in upstate New York. When she wasn't writing or reading, she was rowing on the crew team, taking ballet lessons, fencing and swimming. She graduated from Union College with degrees in English and history, which comes in handy when she writes historical fiction.
After earning a master's degree in information science, Anne began working as a youth services librarian. Currently, she lives in southeastern Virginia with her family. When she's not writing young adult fiction, she's playing with her daughter, training for races with her husband, working at her amazing library branch, learning to knit (badly), and reading.
And now for the interview.
Emma: From the synopsis of CONSPIRACY OF BLOOD AND SMOKE, we know Gretchen and Daniel are returning to Germany. What led you to the plot of PRISONER OF NIGHT AND FOG's sequel?
Anne: Oooh, I'd better be careful how I answer this so I don't give too much away! I knew I wanted to set the first book in Munich, the second in Berlin, and for the mysteries in each story to reflect the personalities of the cities in which they take place. I wanted CONSPIRACY's plot to feel as labyrinthine as 1930s Berlin itself and for the story to revolve around certain real-life events--which would be too spoilery to reveal here. With that in mind, I started researching Berlin and stumbled across an account of a still-unsolved homicide.
On the last night of 1932, a young woman got off a bus and started walking home. Maybe she didn't even see the man riding a bicycle toward her. He was dressed in a brown SA uniform, one of the divisions with the Nazi Party, and his outfit would have been a common sight in those days. When he got closer to her, he whipped out a pistol, shouted, "Heil, Hitler!" and shot her in the head. While horrified bystanders watched, he rode away and she dropped to the ground, already dead.
Hmm
, I thought as I perused the story, wouldn't it be interesting if this hadn't been a stranger-on-stranger crime but had been disguised to look like one? All at once, I knew I had the beginnings of my murder mystery.
Emma: I'm sure a lot of research went into both PRISONER and CONSPIRACY. You told me last time that Hitler sported a tiny mustache because he was self-conscious about his nostrils. What was your favorite bit of research you found while writing CONSPIRACY?
Anne: Anything to do with the
Ringvereine
! They were Germany's organized criminal underworld, somewhat akin to the American Mafia. I found Rings absolutely fascinating. The more I learned about them, the more I realized they were utterly unlike what I had expected.
Ringverein
men weren't violent, as a rule, and they wouldn't permit murderers or rapists to join their gangs. My favorite tidbit about them, though, is the fact that they would fine their members if they were drunk in public!
Emma: If you could travel back in time to any place or event, what would you choose
Anne: I'm a huge history nerd, so this is actually something I think about a lot! My answer changes depending on my mood, but today I'm going to pick Renaissance-era Florence. Can you imagine how sumptuous and decadent and intellectually invigorating Italy must have been back then?
Emma: Which of your book covers is your favorite?
Anne: Nope, can't do it. This is like being asked which of my parents I love more.
J
Fortunately, so far I've loved all of my covers! I adore how different the foreign editions look from the US ones, too.
Emma: It was worth a try, haha. Personally, I think I like CONSPIRACY's just a teeny bit better.
Emma: Please tell me you plan to write more historical fiction!
Anne: Yes! My next book, which comes out in April 2016, is a historical adventure set in seventeenth century England! And right now I'm working on two other manuscripts that take place in different eras. I find history endlessly inspiring!
Emma: *loses all chill*
Emma: When you're not writing, do you watch any TV shows or movies? If so, which are your favorites?
Anne: Currently I'm obsessed with THE VAMPIRE DIARIES and BLUE BLOODS. I'm really behind on both series, so I'm very grateful for Netflix!
Emma: What's a recent read you recommend?
Anne: Lately I've been learning more about my Puerto Rican roots, so I decided to read Julia de Burgos's poetry. She's considered one of Puerto Rico's finest poets, and she was born in the same town where my ancestors lived. I started Amor y Soledad last night, and I couldn't put it down. Her poetry is so raw and bleakly beautiful—I can't get enough of it.
Thanks so much, Anne!
Thanks so much for having me, Emma!
Conspiracy of Blood and Smoke releases tomorrow, so add it to your TBR and preorder it now or head to the bookstore tomorrow to buy it!
You can find Anne and her books at these links: