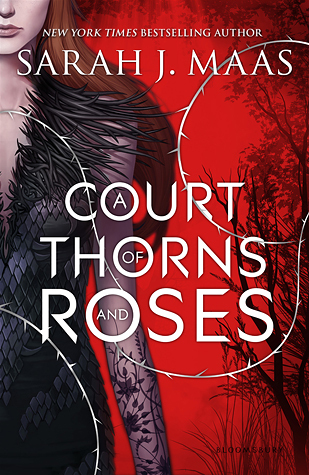 A Court of Thorns and Roses by Sarah J. Maas
Grade: B-
Release date: May 5, 2015
This ARC was provided by Read Between the Lynes in exchange for an honest review.
Summary:
When nineteen-year-old huntress Feyre kills a wolf in the woods, a beast-like creature arrives to demand retribution for it. Dragged to a treacherous magical land she only knows about from legends, Feyre discovers that her captor is not an animal, but Tamlin—one of the lethal, immortal faeries who once ruled their world.
As she dwells on his estate, her feelings for Tamlin transform from icy hostility into a fiery passion that burns through every lie and warning she's been told about the beautiful, dangerous world of the Fae. But an ancient, wicked shadow grows over the faerie lands, and Feyre must find a way to stop it . . . or doom Tamlin—and his world—forever.
The Good, the Bad, and the Ugly: You know those books that when you're reading them, you lose all track of time? That was A Court of Thorns and Roses (hereafter referred to as ACOTAR) for me. It was like some faerie was casting their magic on me. I wasn't expecting to love ACOTAR - and I didn't. But holy wow, was it good. I loved catching little reminders of Disney's Beauty and the Beast along with elements of the original. Feyre is no Belle. She's stubborn, and fierce, and only cares for her family because of a promise to her mother. Her father is no bumbling, kind, creative Maurice. And Tamlin is much gentler than Disney's Beast. He's more like the original in that aspect. Lucien is such a fun character. Sarah did a great job at bringing all the important characters to life, and she gave Feyre's seemingly bratty sisters such life and humanity. I really hope Elain and Nesta make it out of this series alive. Speaking of series...to be honest, I felt like ACOTAR wrapped things up very well (there's still questions, but I felt like I could see the characters living happily ever after), so it's going to be interesting to see why more books are needed. Is there going to be a love triangle? Because I hope not. Tamlin is the only love interest for Feyre in my opinion. Another note I have is that ACOTAR is definitely straddling that YA/NA (New Adult) border. It's much sexier and darker (and more violent) than the Throne of Glass books.
The Verdict:
Overall, I did enjoy discovering a new world. Maas is very good at creating epics. I'm still not a big fan of fae and what-not, so the plot of this one was more fascinating to me than most of the little details.
Will I be adding this book to my library?: I'm still deciding.