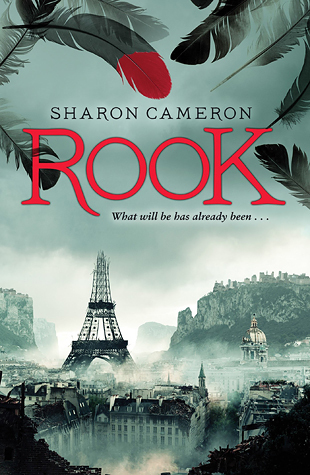 Rook by Sharon Cameron
Grade: B
Release date: April 28, 2015
This ARC was provided by Scholastic in exchange for an honest review.
Summary:
History has a way of repeating itself. In the Sunken City that was once Paris, all who oppose the new revolution are being put to the blade. Except for those who disappear from their prison cells, a red-tipped rook feather left in their place. Is the mysterious Red Rook a savior of the innocent or a criminal?
Meanwhile, across the sea in the Commonwealth, Sophia Bellamy's arranged marriage to the wealthy René Hasard is the last chance to save her family from ruin. But when the search for the Red Rook comes straight to her doorstep, Sophia discovers that her fiancé is not all he seems. Which is only fair, because neither is she.
As the Red Rook grows bolder and the stakes grow higher, Sophia and René find themselves locked in a tantalizing game of cat and mouse.
The Good, the Bad, and the Ugly: I was drawn to Rook first for its cover. It looks like a dystopian Paris, and boy, was I intrigued. Then I found out it was a retelling/reimagining of The Scarlet Pimpernel and I was hooked. Confession time: I've never read The Scarlet Pimpernel. I have read another futuristic retelling, Across a Star-Swept Sea and it was so much fun. Like that novel, Rook was high-concept with a lot packed in. We never find out the complete history of how the world became how it is, but it's clear that the world of Rook is futuristic. The explanation Cameron gave in the author's note was very interesting and I found it fairly plausible. Also, it was nice to be somewhere besides dystopian America. I loved exploring a new Paris, but there wasn't much imagery, which I would've appreciated so much of. Even little descriptions to help place what the building used to be would've been useful. If you're easily bored, Rook may not be a book for you. It was highly interesting but very slow-going. There's a good cast of characters, and their intentions aren't always clear which is fun. I love characters where you're not sure who's going to betray whom first. However, I don't feel like I got to know Sophia as well as I would've liked to. I know she was fairly selfless and loyal with a strong moral code, but her personality seemed very untouched, like she was just a means of exploring the story.
Language was fairly clean, as was romance. Violence was the worst but wasn't too graphic.
The Verdict: Really fun but it'll be a slow read.
Will I be adding this book to my library?: I think so.