I've stated many times that I'm a history geek and love historical fiction. So it was quite the honor to interview the author of one of my most anticipated YA historical fic releases of 2015.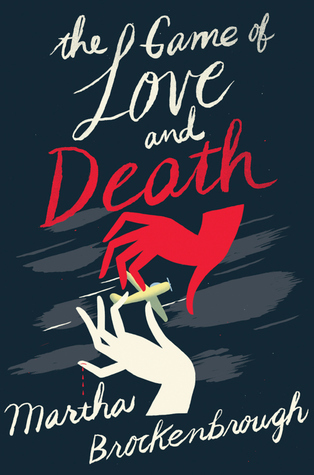 Antony and Cleopatra. Helen of Troy and Paris. Romeo and Juliet. And now . . . Henry and Flora.
For centuries Love and Death have chosen their players. They have set the rules, rolled the dice, and kept close, ready to influence, angling for supremacy. And Death has always won. Always.
Could there ever be one time, one place, one pair whose love would truly tip the balance?
Meet Flora Saudade, an African-American girl who dreams of becoming the next Amelia Earhart by day and sings in the smoky jazz clubs of Seattle by night. Meet Henry Bishop, born a few blocks and a million worlds away, a white boy with his future assured — a wealthy adoptive family in the midst of the Great Depression, a college scholarship, and all the opportunities in the world seemingly available to him.
The players have been chosen. The dice have been rolled. But when human beings make moves of their own, what happens next is anyone's guess.
Achingly romantic and brilliantly imagined,
The Game of Love and Death
is a love story you will never forget.
Martha Brockenbrough (rhymes with broken toe) is the author of two books for adults and five books for young readers.
She's the founder of National Grammar Day (every March 4), and she's written game questions for Cranium and Trivial Pursuit. The former editor of MSN.com, Martha has interviewed lots of celebrities, including the Jonas Brothers and Slash (his favorite dinosaur is the diplodocus). Her work has been published in a variety of places, including The New York Times. She also wrote an educational humor column for the online encyclopedia Encarta for nine years.
She lives in Seattle with her family. Her favorite kind of food is Indian, although Thai runs a close second. Besides writing, she likes board games, playing music with the family band, travel to places far and near, drinking lots of coffee, and working out really hard at the gym.
And now let's get to the interview!
Emma: What specifically inspired The Game of Love and Death?
Martha: This book came out of a lot of things. My overall goal was to tell an entertaining, riveting, and beautiful story about love and how it relates to death. But in particular, I was inspired by a few unforgettable things I encountered in middle school, high school, and beyond. When I was in sixth grade, I heard the audio recording of the Hindenburg explosion. It was chilling, and in this book, I offer an alternative explanation. In high school, my art teacher told us about Picasso's Guernica painting, which I later learned had secret messages. The incident that inspired the art appears in the book, again with another explanation. Because I love enigmas and secret messages, I also included a reference to "The Enigma Variations" by Edward Elgar. (It's a really pretty piece—listen to it!). And finally, I once heard a great love story from a reader, which was at the same time beautiful, heartbreaking and inspiring. So I guess you could say I took special things from my life and wove them into what I hope readers find is a special story.
Emma: Were there any scenes, chapters, or details that you wish could've been included but had to be cut?
Martha: So many! I rewrote this book about 31 times. It started out as a contemporary, but I was so much happier setting it in the Depression, and specifically in Seattle's jazz scene. I had more about doomed love in the past, but that didn't help push this love story forward. Still … if you want to talk about doomed love at any point, I'm your gal. In many ways, heartbreak is even more interesting to me than happy endings. (Except in real life.)
Emma: How much research did you do for this book and what was your favorite fact that you found while researching?
Martha: I did a lot of research for this book—sometimes without even knowing about it. In my 20s, I read a lot of Harlem Renaissance writing. More recently, and to understand what the jazz scene of the 30s was like, and specifically in Seattle, I read books about that. A whole lot of Seattle, where the story is largely set, was photographed in 1937, so I could look at images of people from the exact time period I was writing about. I have walked the streets of Venice where one pivotal scene is set, and I have stood on the hillside overlooking Alcatraz in San Francisco where another one is set. Wherever possible, I like to have visited the places I write about in person.
One of my favorite insider facts: every moon phase in this book is accurate. It's a teeny peeve of mine to encounter altogether too many full moons in stories and movies. But maybe one of my favorite facts is one I hashed out with the lovely Elizabeth Wein, author of CODE NAME VERITY, ROSE UNDER FIRE, and more recently, BLACK DOVE, WHITE RAVEN, which features the same kind of plane as THE GAME OF LOVE AND DEATH. In one scene of my book, a character checks his zipper. In my research, I made sure that zippers had been invented then—and they had been. In fact, in 1937, they were a fashion magazine's innovation of the year. Elizabeth pointed out, rightly, that zippers might not have been widely adopted in the pants of the day, so I took that bit out. This shows, I think, how picky and fraught writing historical fiction can be. Little things we take for granted almost become invisible. It takes a special eye, like Elizabeth's, to see what needs to be seen.
I would also be remiss in not mentioning the aviator Bessie Coleman and the jazz bassist Milt Hinton. Bessie's life showed me that Flora's ambitions were not only possible, but achievable. And Milt Hinton showed what music could mean to black people. It was a way of creating something original and wholly theirs, and a more powerful choice than, say, working as a maid or as a Pullman porter. Some of these musicians really did make a good living wage back then. And his music—unbelievably good. You should listen. Oh! And I can't forget to mention William Grose, one of the first black men to live in Seattle. He became a huge financial success and was a giant physically and in character. He sold a restaurant that burned five years later in the great Seattle fire—and he refunded the purchase price. Who would do that today? No one. It was a thrill to discover the wonderful people who lived around the time I was writing, and I hope I did their courage, grit, and character right.
Emma: How did you react when you got the news that The Game of Love and Death was going to be published?
Martha: Oh, it was a thrill. I love working with Arthur A. Levine at Scholastic. He's an incredibly perceptive and supportive editor. What's more, I'd been working on this book and literally, at points, sobbing over the challenge of it for several years. To get it to a point where it was (almost) ready for the world after all of that doubt was one of the highlights of my professional life.
Emma: Are you working on any other YA titles at the moment?
Martha: Yes! It's a secret project, but it does involve some narration by a rat, as well as a lot of math and music. I'm taking a lot of risks with this book and hope they pay off splendidly. I want to read books that feel like stories I haven't yet read, and for readers in that same boat, this one's for you.
Emma: Finally, my standard question, what's your favorite fairytale and why?
Martha: I love a lot of fairytales, but maybe The Red Shoes is my favorite because it's so dark and creepy. In it, a girl puts on beautiful red shoes and dances herself to death. It's such a dark, judgmental story meant to scare people away from what was seen as dangerous. But really, I believe it was meant to control people into submission, to scare them from feeling joy. So someday, maybe I'll have to rewrite this one, once I figure out how those red shoes can figure into a larger story. Because that's what I really believe we're here on this earth to do: to discover what we love, to do it with all our hearts, and to make a great and beautiful difference to each other in the process.
Thanks so much for stopping by, Martha! The Game of Love and Death releases later this month (April 28th, to be precise), so add it to your to-read list and preorder it ASAP.
You can find Martha and her books at the following links: