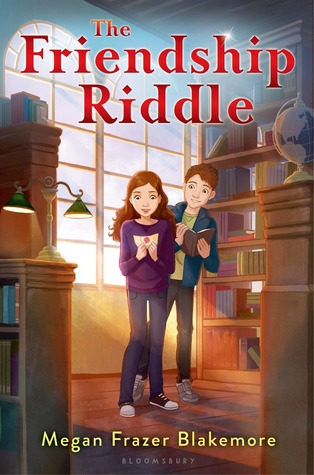 The Friendship Riddle by Megan Frazer Blakemore
Grade: DNF
Release date: May 5, 2015
This e-galley was provided by Bloomsbury USA Children's and NetGalley in exchange for an honest review.
Summary:
Ruth Mudd-O'Flaherty has been a lone wolf at Frontenac Consolidated Middle School ever since her best friend, Charlotte, ditched her for "cooler" friends. Who needs friends when you have fantasy novels? Roaming the stacks of her town's library is enough for Ruth. Until she finds a note in an old book . . . and in that note is a riddle, one that Ruth can't solve alone. With an epic quest before her, Ruth admits she needs help, the kind that usually comes from friends. Lena and Coco, two kids in her class could be an option, but allowing them in will require courage. Ruth must decide: Is solving this riddle worth opening herself up again?
In this surprising and emotionally satisfying journey through the ups and downs of middle school, Ruth finds that even the bravest heroes need true friends by their side.
When did I stop reading?: 33% into my e-galley (right after chapter ten)
Why didn't I finish?: The plot felt a bit unfocused, the friendships between Ruth and several characters didn't fit right, and there were random info-drops about Ruth's family, Charlotte's family, needing a bra, and so forth.
The Long(er) Review: I read Chasing Vermeer as a preteen, a book that The Friendship Riddle was said to be for fans of. This was no Chasing Vermeer. It was much more lighthearted (which isn't always a bad thing) with less of a focused plot. This book seemed to focus more on Ruth's day-to-day life and the spelling bee than the riddles she was finding in library books. That was the plot I was interested in, but I got very little of it. Also, Charlotte and Ruth are said to no longer be friends but they interact an awful lot for that to be true.
The Verdict: Middle grade is often hit-or-miss for me, and unfortunately, this was very much a miss.