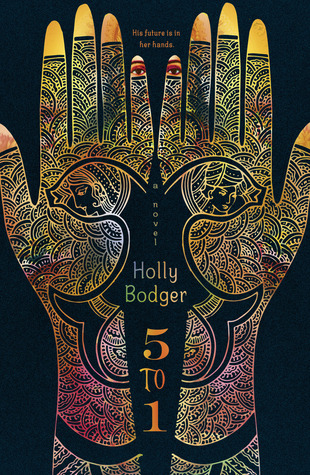 5 to 1 by Holly Bodger
Grade: B-
Release date: May 12, 2015
This ARC was provided by a fellow blogger, Eden.
Summary:
In the year 2054, after decades of gender selection, India now has a ratio of five boys for every girl, making women an incredibly valuable commodity. Tired of marrying off their daughters to the highest bidder and determined to finally make marriage fair, the women who form the country of Koyanagar have instituted a series of tests so that every boy has the chance to win a wife.
Sudasa, though, doesn't want to be a wife, and Kiran, a boy forced to compete in the test to become her husband, has other plans as well. As the tests advance, Sudasa and Kiran thwart each other at every turn until they slowly realize that they just might want the same thing.
This beautiful, unique novel is told from alternating points of view-Sudasa's in verse and Kiran's in prose-allowing readers to experience both characters' pain and their brave struggle for hope.
The Good, the Bad, and the Ugly: I had been anticipating 5 to 1 for quite some time, so when a fellow blogger offered to trade it, I jumped at the chance. I hadn't read the synopsis in quite some time, so when I flipped through the ARC once it arrived, I was surprised to see sections in verse as well as prose. On principle, I don't read books written in verse. It's not my thing at all. So that did lessen my enjoyment of 5 to 1. However, Bodger's novel tells an intriguing story so I forged ahead. I felt a bit detached from the characters because of the narration style. The book left many questions unanswered, and I don't think Sudasa's verse chapters helped that. Bodger still built an interesting world that I wanted more of and there could've been more of that if the story had been fleshed out a bit further. It was only 224 pages, y'all, which is pretty short for most YA novels these days. I don't know if my anticipation for 5 to 1 killed it at all for me; that's highly possible. I did enjoy looking at why different characters made the choices they did, and I thought it was cool how Sudasa's father was connected to Kiran. But I don't think I grasped why Sudasa's father made the choice he did towards the end.
On the very positive side, 5 to 1 had no foul language (that I remembered) and minimal romantic content and violence. Nothing graphic or iffy, at the very least.
The Verdict: Not everything I hoped, but I think others could like it more than me.
Will I be adding this book to my library?: Still deciding.