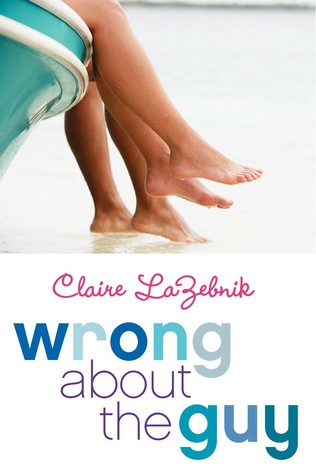 Wrong About the Guy by Claire LaZebnik
Grade: B- (Although I give that cover a D.)
Release date: April 21, 2015
Summary:
Claire LaZebnik's latest twist on a beloved classic asks the age old question: Could the girl who knows everything be wrong about the guy?
As the stepdaughter of a TV star, Ellie Withers has it all: an amazing house in LA, a devoted friend who loved her before she even knew who Ellie's stepfather was, and a burgeoning romance with handsome Aaron Marquand. But Ellie isn't the kind of person who's content with simply having it all—the people in her life have to be equally happy. And, of course, she knows exactly what they need.
When Ellie's plans for her family, her friends, and even her love life don't turn out the way she imagined, she begins to wonder if maybe she could stand to learn a thing or two after all. Most surprising, though, is that the perfect person to teach her is the last person she'd expect.
The Good, the Bad, and the Ugly: I'm a sucker for Jane Austen retellings, particularly if it's not another P&P retelling. And I'm really a sucker for anything Emma. I knew Claire LaZebnik would inevitably get around to retelling Austen's fourth novel but I'll admit, I was very leery when I first heard last fall that this was coming. You see, I didn't like Epic Fail (Pride and Prejudice) and The Last Best Kiss (Persuasion), but The Trouble with Flirting (Mansfield Park) was pretty good. Thankfully, Wrong About the Guy wasn't a disappointment. It was so fun reading this book and figuring out who was who, or had elements of the original characters. Ellie's grandmother is very much the hypochondriac Mr. Woodhouse and also a bit of Miss Bates. A few characters are pretty obvious like Heather (Harriet), George (George Knightley), Jonathan and Izzy (John and Isabella), etc. Churchill was a bit harder to identify, and I'm still trying to figure out if Mr. and Mrs. Weston, Jane Fairfax (although I think there might be a sort of Jane), and Mr. Elton were given counterparts. I know Mr. Martin wasn't, which I thought was an interesting choice. I did miss Emma's matchmaking so I would've liked to see that in the novel as well. Ellie was a great character, though. She means well, she loves her lifestyle, and she isn't a bad person, just like Emma. The California and celebrity parts worked well. I found myself comparing this retelling to Clueless in some ways, and it stood up very well. Of course, Ellie Withers will never be Cher Horowitz or Emma, but she was a good interpretation.
There's a plot twist towards the end that I couldn't really get behind. I could see the Frank-Jane parallels, but it still left a bitter taste in my mouth and I think the Churchill character got off a bit too easy.
But yay for George, and Jacob, and Ellie maturing!
Some foul language, but not as bad as in Epic Fail. Some crude thoughts, words, and ideas, when it comes to romantic content. No violence.
The Verdict: So much fun! There need to be more Emma retellings.
Will I be adding this book to my library?: I'd like to!