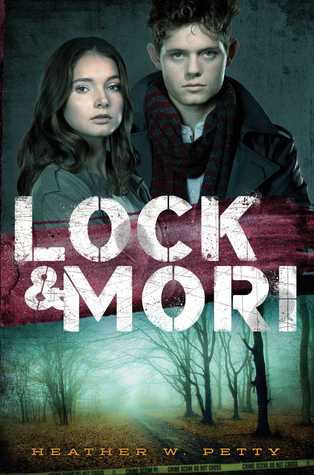 Lock & Mori by Heather W. Petty
Grade: B-
Release date: September 15, 2015
An e-galley was provided by Simon & Schuster via Edelweiss in exchange for an honest review.
Summary:
In modern-day London, two brilliant high school students, one Sherlock Holmes and a Miss James "Mori" Moriarty, meet. A murder will bring them together. The truth very well might drive them apart.
Before they were mortal enemies, they were much more.
FACT: Someone has been murdered in London's Regent's Park. The police have no leads.
FACT: Miss James "Mori"Moriarty and Sherlock "Lock" Holmes should be hitting the books on a school night. Instead, they are out crashing a crime scene.
FACT: Lock has challenged Mori to solve the case before he does. Challenge accepted.
FACT: Despite agreeing to Lock's one rule--they must share every clue with each other--Mori is keeping secrets.
OBSERVATION: Sometimes you can't trust the people closest to you with matters of the heart. And after this case, Mori may never trust Lock again.
The Good, the Bad, and the Ugly: I've never watched the BBC series Sherlock unlike a lot of book bloggers. But I love mysteries, and the idea of a genderbent Moriarty was like catnip. Lock & Mori felt a bit incomplete, perhaps lacking, at times. There were gaps that I needed filled in. Mori and Sherlock end up in a romantic relationship awfully fast, which made me feel like I missed some key development between their meeting and the kissing. Solving the mystery came a bit too easily to them, I felt. I wanted more of the nitty-gritty there and a more complex murder plot. Instead, there was more romance than I was expecting. And I love a good romance - but only if it's set up and developed well. I did enjoy the nods to other classic Sherlock characters. (Watson makes an appearance, as does Mycroft. Mrs. Hudson is mentioned.) I should note that I appreciated bits of Mori's characterization. She's got sketchy morals (and sometimes good reasons for them). I couldn't decide if she genuinely loved her little brothers or if she cared for them simply out of duty/respect for her dead mother.
The synopsis promised drama, and I didn't quite get the drama I wanted. Overall, this was a fun read but it didn't blow me away like, say, The Naturals did. The last few sentences were fantastic, and they held a promise of something more that I can't wait for. In retrospect, I have to remind myself that there were elements of Lock & Mori that were probably very realistic. These are teenagers, after all. They're not going to be like their namesakes. I will be interested to see where the rest of the books in this series take our protagonists, and I'm hoping for more of Alice. She seemed cool.
There were a few foul words, lots of kissing, and plenty of violence (there are murders, after all).
The Verdict: Good, but it did feel like the debut it is.
Will I be adding this book to my library?: Probably.