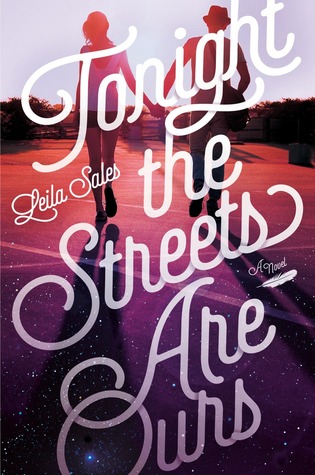 Tonight the Streets Are Ours by Leila Sales
Grade: C+
Release date: September 15, 2015
An ARC was provided by Macmillan in exchange for an honest review.
Summary:
Seventeen-year-old Arden Huntley is recklessly loyal. Taking care of her loved ones is what gives Arden purpose in her life and makes her feel like she matters. But she's tired of being loyal to people who don't appreciate her—including her needy best friend and her absent mom.
Arden finds comfort in a blog she stumbles upon called "Tonight the Streets Are Ours," the musings of a young New York City writer named Peter. When Peter is dumped by the girlfriend he blogs about, Arden decides to take a road trip to see him.
During one crazy night out in NYC filled with parties, dancing, and music—the type of night when anything can happen, and nearly everything does—Arden discovers that Peter isn't exactly who she thought he was. And maybe she isn't exactly who she thought she was, either.
The Good, the Bad, and the Ugly: The plot of Tonight the Streets Are Ours felt strong and interesting. It made me think. But the characters? Oh boy, did I have problems with them. Yet...I liked them. They were flawed and realistic, but they drove me crazy in a way that drove me over the edge. Arden makes idiotic choices and thinks ridiculous things. But she's a teenager. And teenagers often think really crazy things. Peter...Peter just made me mad. Like, I'm sure people like him exist? But he was not what I wanted him to be one bit. I ended up liking Bianca, and whoa, was I not expecting those mini plot twists. I really enjoyed the theme that one person's version isn't usually the whole (or even true) story. The plot with Arden's mom was pretty cliche. It helped with parts of the plot, but there are too many books where the mom (or dad) leaves because they're sick of family life.
I really didn't like Lindsey. She took advantage of Arden so much and then freaked out at her supposed best friend for just caring about her. In addition, one of the really unrealistic moments was when she was calling around the different bookstores, looking for the one where Peter worked. I'm pretty sure those places of business wouldn't say whether or not he was working that night because it would be a security risk. Correct me if I'm wrong, though.
There was a fair amount of foul language, plus drug use and underage drinking.
The Verdict: Kind of good, but I didn't like this one as much as This Song Will Save Your Life.
Will I be adding this book to my library?: I'm not sure.