The Author
Brianna Shrum lives in Colorado with her high-school-sweetheart turned husband and her two little boys. She's been writing since she could scrawl letters, and has worked with teens since she graduated out of teenager-hood, either in the writing classes she taught, or working with the youth group. Brianna digs all things YA, all things geeky, superhero-y, gamery, magical, and strange.
Her debut YA, Never Never, releases in September of this year. Her second YA, How to Make Out, releases in Fall 2016. She'd totally love to connect with you, so come say hi on her website or Twitter!
Visit her Website at briannashrum.com
Follow her on Twitter @briannashrum
The Book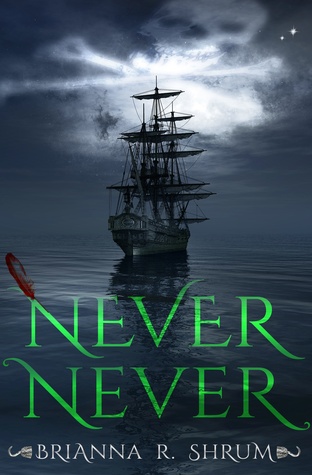 James Hook is a child who only wants to grow up.

When he meets Peter Pan, a boy who loves to pretend and is intent on never becoming a man, James decides he could try being a child—at least briefly. James joins Peter Pan on a holiday to Neverland, a place of adventure created by children's dreams, but Neverland is not for the faint of heart. Soon James finds himself longing for home, determined that he is destined to be a man. But Peter refuses to take him back, leaving James trapped in a world just beyond the one he loves. A world where children are to never grow up.

But grow up he does.

And thus begins the epic adventure of a Lost Boy and a Pirate.

This story isn't about Peter Pan; it's about the boy whose life he stole. It's about a man in a world that hates men. It's about the feared Captain James Hook and his passionate quest to kill the Pan, an impossible feat in a magical land where everyone loves Peter Pan.

Except one.
The Guest Post - Favorite Adaptations of Peter Pan
Hands down, my all-time favorite Peter Pan adaption HAS to be HOOK. (Before I go into full-on fangirl mode, though, let us all put our hats over our hearts for the incredible 2003 Peter Pan's Jason Isaacs as Hook. I mean, good gracious, was he utter perfection.)
HOOK certainly presented a more kid-friendly Neverland than we go to in Never Never, but I think that's one of the things I love about it. Who among us saw HOOK and didn't want to eat everything on that imaginary dinner table with all the Lost Boys? Or wasn't shaking in their shoes at the sheer terror of The Boo Box? (By the way, the pirate who gets tossed into The Boo Box at the beginning, bearded and all, is played by Glenn Close! I just think that's so cool.) And who, unless you have no heart, doesn't STILL weep at the mere THOUGHT of Rufio? (RU-FI-OOOOOOO)
It's easily the most diverse Pan adaptation, particularly among the Lost Boys, which I love. And it's so full of life and hilarity and magic and cleverness.
Robin Williams' Pan is incredible. (Though it kind of makes me cry now L) But the real perfection of the story, though, is in the good Captain, as one would assume, based on the title. Hook is frightening, and refined, and elegant, and bizarrely, dreadfully likable and scary all at once. You find yourself unsure if you'd want to be a Lost Boy or a pirate, because of him and his crew.
I could talk about this movie all day. I won't. I think I'll go watch it instead. BANGARANG!
The Giveaway