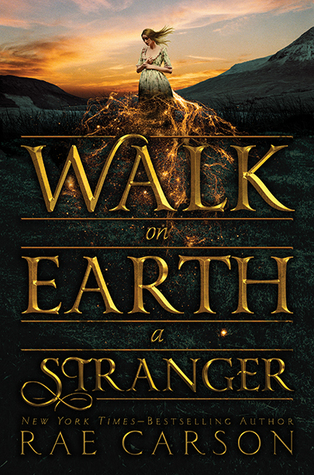 Walk on Earth a Stranger by Rae Carson
Grade: B
Release date: September 22, 2015
This ARC was provided by Read Between the Lynes in exchange for an honest review.
Summary:
The first book in a new trilogy from acclaimed
New York Times
bestselling author Rae Carson. A young woman with the magical ability to sense the presence of gold must flee her home, taking her on a sweeping and dangerous journey across Gold Rush–era America.
Lee Westfall has a secret. She can sense the presence of gold in the world around her. Veins deep beneath the earth, pebbles in the river, nuggets dug up from the forest floor. The buzz of gold means warmth and life and home—until everything is ripped away by a man who wants to control her. Left with nothing, Lee disguises herself as a boy and takes to the trail across the country. Gold was discovered in California, and where else could such a magical girl find herself, find safety? Rae Carson, author of the acclaimed Girl of Fire and Thorns trilogy, dazzles with this new fantasy that subverts both our own history and familiar fantasy tropes.
The Good, the Bad, and the Ugly: Wow. Rae Carson continues to take me by surprise. I was worried she wouldn't be able to switch genres, but I had no reason to be concerned. One thing I can say about Ms. Carson's books is that they continue to break the mold. Sure, she follows a few tropes but they aren't done in a bad way and I wasn't expecting anything of where the story would go, which was great. I love when books surprise me and I don't know what will happen, even if the story isn't a thriller. Leah/Lee was great. She was strong, determined, and didn't take any guff. I love how, while she was mostly a fully-developed character (unlike Carson's Elisa in Girl of Fire and Thorns), she still had decisions to make about who she was and what she wanted.
While I did really enjoy Walk on Earth a Stranger, I don't have mad love for it. I don't think Rae can write super strong first books. The Girl of Fire and Thorns isn't the strongest book in its trilogy. However, I have high hopes for the sequels and I'm pretty sure they'll be on the same level as The Crown of Embers and The Bitter Kingdom.
I loved the historical feel and accuracy. Rae does not preserve characters just for our benefit. There are real stakes and problems. She didn't shy away from the nitty-gritty of heading West in the mid-1800s.
Walk on Earth is technically historical fantasy (I still just call it historical fiction), and the magic element is interesting. It's obvious from the synopsis what Lee can do, and it certainly causes a lot of problems for her, which was nice. I don't like when protagonists float through everything and encounter no real obstacles. Let me tell you, the odds are stacked against Lee in a lot of ways.
So, there's some violence and gore, mild language, and mild sexual content.
The Verdict: Really good, and I think this book is the start to a great trilogy.
Will I be adding this book to my library?: Already preordered!