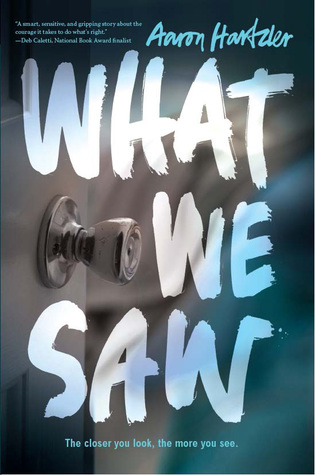 What We Saw by Aaron Hartzler
Grade: B-
An ARC was provided by Read Between the Lynes in exchange for an honest review.
Summary:
Kate Weston can piece together most of the bash at John Doone's house: shots with Stacey Stallard, Ben Cody taking her keys and getting her home early—the feeling that maybe he's becoming more than just the guy she's known since they were kids.
But when a picture of Stacey passed out over Deacon Mills's shoulder appears online the next morning, Kate suspects she doesn't have all the details. When Stacey levels charges against four of Kate's classmates, the whole town erupts into controversy. Facts that can't be ignored begin to surface, and every answer Kate finds leads back to the same question: Where was Ben when a terrible crime was committed?
This story—inspired by real events—from debut novelist Aaron Hartzler takes an unflinching look at silence as a form of complicity. It's a book about the high stakes of speaking up, and the razor thin line between guilt and innocence that so often gets blurred, one hundred and forty characters at a time.
The Good, the Bad, and the Ugly: Do you ever feel bad for not loving an "issue" book? Don't get me wrong, they can be very thought-provoking and important, but sometimes, I just don't love them. That's the case with What We Saw. It handles the issue of accusations of sexual assault well. Hartzler wrote realistic characters with realistic dialogue; a bitter taste was often left in my mouth but only because I could see how true some things were. But I felt distanced from the book. Maybe it's because I've, thankfully, never experienced such a situation. There was no emotional connection for me.
What We Saw took turns I didn't quite expect, which was good. I'm glad things ended the way they did. Most "issue" books don't really have happy endings, but this one had a sort-of happy ending. There's not a lot I can say about this one without being spoilery, and I'm trying to refrain from that.
The ugly consisted of: underage drinking (lots of it), definitely some upper PG-13 sexual content, and there's SPOILER

a video of the actual act. The descriptions of it are fairly graphic, so I'd definitely place some trigger warnings on that scene.

END SPOILER.
The Verdict: Good, worth the read, but not something I loved.
Will I be adding this book to my library?: Probably not. It was a good read but not something I want to own.