Now that one of my favorite books is out in paperback and we're nearing its one year anniversary of being published, I thought it was time to talk about why I love The Start of Me and You by Emery Lord so much.
(The Start of Me and You starter pack. It's only missing a paper airplane and a lavender planner.)
1. The characters
Paige Hancock is so relatable and very much a kindred spirit. Max Watson is everyone's dream boyfriend...
"Yes, hello, I'd like to place an order for one Max Watson, please." How my call to the Book Boyfriend Store would go.

— Emma (@AwkwordlyEmma) September 16, 2014
And both he and Ryan are two of the kindest guys in YA literature. They are genuinely friendly and caring, and really, not at all like any high school boys I knew, but I don't care. And then there's Paige's friends. Three wonderful girls - Tessa, Kayleigh, and Morgan - who are all fleshed out and not just there to support Paige. She supports them, too, as one should in friendship.
2. The pop culture references
Max is a nerd, and he loves Firefly. Both he and Paige love Do-si-dos. (And yeah, Girl Scout cookies aren't entirely pop culture, but do I care? No.) When a character kisses Paige, she says, "Thanks," and then she references Rory Gilmore in her inner monologue. Paige has read tons of books, including Pride and Prejudice and Looking for Alaska. She watches TV shows like I Love Lucy and Friends.
3. The romance
Every time I think about Max Watson, I swoon.
Okay, that's not really true. But he's still fantastic. He's sweet, funny, and caring. He pushes Paige out of her comfort zone.
I love how slow burn the romance was. It takes an entire school year for them to act on their feelings (sorry if that's a spoiler). But the entire time, as they grow from friends to something more, I wasn't terribly antsy for them to kiss. I mean, I was, but part of The Start of Me and You's appeal is the journey. Which brings me to...
4. The way it makes me feel
I read The Start of Me and You for the first time right before I had a rough patch in my life. For a lot of people, that would mean negative associations. For me, it's a positive one. I remember writing my review of TSOMAY and how that got me through some of the rougher moments. Every time I reread TSOMAY, I get this warm feeling in my gut that I only get with a few other books (Since You've Been Gone, Don't Touch, and Heist Society, to provide a few examples).
5. The quotes
"'Do you know why I loved these so much when we were little? They made me feel invincible. Like, what terrible things could happen to you when you're wearing a crown of flowers?'"
"'Like you had been drowning and the book was air.'
I was quiet, caught in the surreal moment of having my feelings described so exactly. That was how it felt to me, to live in other worlds - books or TV - like breathing became second nature again within their safety."
"Knowing what happens is different from knowing how it happens. And the getting there is the best part."
"'Okay,' he said, leaning closer to me. 'I have a proposition for you.'
Dear God, let it be marriage, I thought."
"Ryan Chase was my eighth-grade collage, aspirational and wide-eyed. But Max was the first bite of grilled cheese on a snowy day, the easy fit of my favorite jeans, that one old song that made it onto every playlist. Peanut-butter Girl Scout cookies instead of an ornate cake. Not glamorous or idealized or complicated. Just me."
"In friendship we are all debtors. We all owe each other for a thousand small kindnesses, for little moments of grace in the chaos."
I'll leave you with this moment from last summer (also bookstore links because I am not above shoving books at people).
Game of LIFE: I got married.

Me: "Can I name him?"

Jeffrey: "Who?"

Me: "The husband!"

(I named him Max Watson for the record.

@emerylord

)

— Emma (@AwkwordlyEmma) June 11, 2015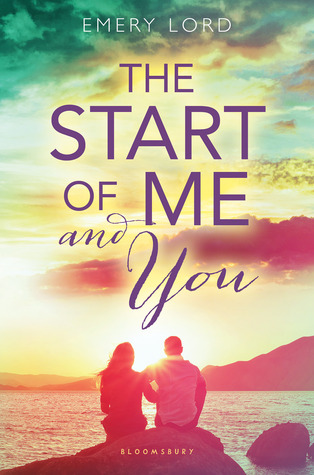 Buy: Read Between the Lynes Barnes & Noble Amazon