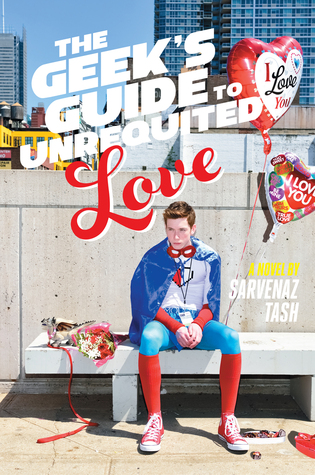 The Geek's Guide to Unrequited Love by Sarvenaz Tash
Grade: A
Summary:
John Hughes meets Comic Con in this hilarious, unabashedly romantic, coming-of-age novel about a teenager who is trying to get his best friend to fall in love with him from the author of
Three Day Summer
.
Peter Parker and Gwen Stacy...
Archie and Veronica...
Althena and Noth...
...Graham and Roxy?
Graham met his best friend, Roxana, when he moved into her neighborhood eight years ago, and she asked him which Hogwarts house he'd be sorted into. Graham has been in love with her ever since.
But now they're sixteen, still neighbors, still best friends. And Graham and Roxy share more than ever—moving on from their Harry Potter obsession to a serious love of comic books.
When Graham learns that the creator of their favorite comic,
The Chronicles of Althena
, is making a rare appearance at this year's New York Comic Con, he knows he must score tickets. And the event inspires Graham to come up with the perfect plan to tell Roxy how he really feels about her. He's got three days to woo his best friend at the coolest, kookiest con full of superheroes and supervillains. But no one at a comic book convention is who they appear to be...even Roxy. And Graham is starting to realize fictional love stories are way less complicated than real-life ones.
The Good, the Bad, and the Ugly: I love books that cater to teen nerdiness and remind us that our passions are something to revel in. After feeling kind of meh about Tash's Three Day Summer, I was nervous for The Geek's Guide to Unrequited Love. But I needn't have worried because Geek's Guide blew Three Day Summer out of the water.
I loved the characterization. Roxana is human and definitely not a manic-pixie dream girl. Graham acknowledges her flaws and loves her despite them. I also very much liked how his feelings for her were resolved. Not going to lie - I really wanted them to get together, but that would be something Samira, Roxy's younger sister, would write in her fanfiction. It wouldn't be realistic for Graham and Roxy's character arcs. The rest of the main cast is pretty good. I never warmed to Devin - he was just a little too perfect - but Casey was fun, and Felicia and Amelia were wonderful. Felicia is extremely smart and pretty, proving that girls don't have to choose. At times, Amelia felt like she was just helping the plot along but I liked where things ended with her and Graham. Anything more would've been too perfect.
I worried about the length of the book, too. It's only 256 pages, and short YA books often feel rushed or like not enough was resolved. That's not the case with Geek's Guide. Since it takes place over only three days, the shortness suits it and nothing felt rushed.
I also don't ordinarily like books narrated solely by guys. I've tried a lot of them, but I don't usually connect with the voice. Not the case here. Graham's voice didn't come across as overly simplistic, but I also didn't think he came across too female, either (which can be a problem when female authors write male protagonists).
There's a teeny bit of foul language, but I think I caught less than a handful? It's a pretty clean book overall.
The Verdict: Geek's Guide felt extremely realistic to me, and that's something I appreciate in my contemporary fiction. I highly recommend this book if you consider yourself a nerd at all, or you're a fan of The Only Thing Worse Than Me Is You or Going Vintage.
Will I be adding this book to my library?: Absolutely! It's on my wishlist.