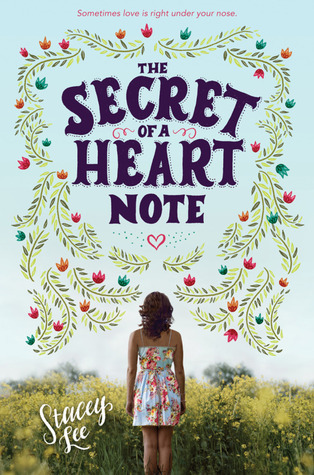 The Secret of a Heart Note by Stacey Lee
Grade: B-
An ARC was provided by the author as a giveaway prize; this in no way affected my review.
Summary:
An evocative novel about a teen aroma expert who uses her extrasensitive sense of smell to mix perfumes that help others fall in love while protecting her own heart at all costs
Sometimes love is right under your nose. As one of only two aromateurs left on the planet, sixteen-year-old Mimosa knows what her future holds: a lifetime of weeding, mixing love elixirs, and matchmaking—all while remaining incurably alone. For Mim, the rules are clear: falling in love would render her nose useless, taking away her one great talent. Still, Mimosa doesn't want to spend her life elbow-deep in soil and begonias. She dreams of a normal high school experience with friends, sports practices, debate club, and even a boyfriend. But when she accidentally gives an elixir to the wrong woman and has to rely on the lovesick woman's son, the school soccer star, to help fix the situation, Mim quickly begins to realize that falling in love isn't always a choice you can make.
The Good, the Bad, and the Ugly: It's always interesting to me when authors switch genres, particularly when they write their first genre so well. Stacey Lee is one of my favorite historical fiction authors, a status that was cemented with her debut novel, Under a Painted Sky. I was very interested to see how this contemporary/magical realism/sort-of-fantasy novel would work.
The protagonist, Mim, is only fifteen, which was nice to see in YA. Lots of younger teens could definitely relate to her. Up until the events of the book, Mim was homeschooled, so she's socially awkward and struggling to keep up in school - both features I wasn't keen on as a former homeschooler. I know both characteristics also had to do with how her mother isolated her and the workload at home, but I felt homeschooling got blamed for parts of it.
I liked that romance wasn't the only plot; Mim is struggling to do things right by her best friend, Kali, and she wants to prove herself as an aromateur. I felt like I needed to see more of why Mim and Kali worked as best friends, though, before the story got into all the drama that threatened to ruin their relationship.
I liked the plot twist. I won't go into detail about it, so as not to spoil the book, but it involves Mim's Aunt Bryony, who is definitely an awesome character. The whole book is full of women. There's probably only three guys total that matter, which is such a change from most of today's films and books.
Mild language. Mild sexual references.
The Verdict: Pretty good, but it wasn't my favorite Stacey Lee book.
Will I be adding this book to my library?: Already did.