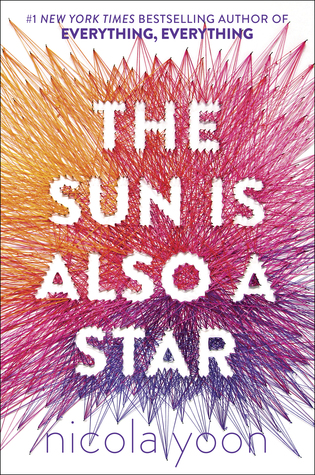 The Sun Is Also a Star by Nicola Yoon
Grade: C+
Summary:
Natasha: I'm a girl who believes in science and facts. Not fate. Not destiny. Or dreams that will never come true. I'm definitely not the kind of girl who meets a cute boy on a crowded New York City street and falls in love with him. Not when my family is twelve hours away from being deported to Jamaica. Falling in love with him won't be my story.

Daniel: I've always been the good son, the good student, living up to my parents' high expectations. Never the poet. Or the dreamer. But when I see her, I forget about all that. Something about Natasha makes me think that fate has something much more extraordinary in store—for both of us.

The Universe: Every moment in our lives has brought us to this single moment. A million futures lie before us. Which one will come true?
The Good, the Bad, and the Ugly: I'm gonna tell y'all a secret. I was more interested in this book than Yoon's debut novel, Everything Everything. But honestly, neither ended up being what I wanted them to be.
I loved the frank descriptions of Natasha's and Daniel's cultures and their parents' expectations. I liked that Daniel didn't hate his parents for expecting him to pursue a certain life. I really liked how their story played out and, while the ending was a teeny bit cliche, it worked well. (Although it was all a bit instalovey, especially on Daniel's end. Natasha needed to be nopeing it the heck out of there.) Sometimes the two teens got a bit too unrealistically pretentious for me.
I felt like we got to know few characters beyond Natasha, Daniel, and Daniel's brother. Everyone else - the parents, Natasha's brother, Peter, and her best friend, Bev - were as flat and static as could be. For the few mentions Bev gets, I wanted waaaaayyyyy more of her. If she wasn't important, than she shouldn't have even been in the story.
I didn't enjoy the bits from other characters' POVs or the explanations about different concepts or things. They felt out-of-place, and they interrupted the flow of Daniel's and Natasha's narratives too much.
A fair amount of foul language. Kissing, making out, and one passing thought about sex.
The Verdict: This book isn't a star.
Will I be adding this book to my library?: No.