Today, please welcome an awesome author to the blog! Kathryn has written some middle grade I have yet to read and two YA books I loved, and she was willing to do an interview so scroll down for that. But first...here's a little about Kathryn and her latest book!
The Book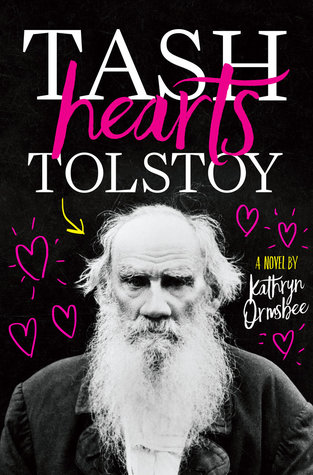 After a shout-out from one of the Internet's superstar vloggers, Natasha "Tash" Zelenka finds herself and her obscure, amateur web series, Unhappy Families, thrust into the limelight: She's gone viral.
Her show is a modern adaptation of Anna Karenina—written by Tash's literary love Count Lev Nikolayevich "Leo" Tolstoy. Tash is a fan of the forty thousand new subscribers, their gushing tweets, and flashy Tumblr GIFs. Not so much the pressure to deliver the best web series ever.
And when Unhappy Families is nominated for a Golden Tuba award, Tash's cyber-flirtation with Thom Causer, a fellow award nominee, suddenly has the potential to become something IRL—if she can figure out how to tell said crush that she's romantic asexual.
Tash wants to enjoy her newfound fame, but will she lose her friends in her rise to the top? What would Tolstoy do?
The Author
Kathryn Ormsbee hails from the Bluegrass State and lives in Nashville, Tennessee. Once upon a time, she co-created a Shakespearean web series that is absolutely as nerdy as it sounds. Lucky Few was her first YA novel. She's also the author of The Water and the Wild fantasy novels. You can find her online at the links above!
The Interview
Emma: Stevie and Tash are such unique, realistic protagonists. What's your secret for writing strong heroines?
Kathryn: To me, writing strong characters means writing real characters—ones with ugly flaws, icky secrets, big aspirations, and their own take on life. And they don't have to be physically or emotionally strong to be strong; they just have to be wonderfully themselves. I love people watching, whether it's in a public park or with a group of friends or while viewing a favorite TV series. There are endless creative possibilities when it comes to personalities and their interactions, and I never grow tired of filing away those possibilities for future consideration. Then, at the beginning of each of my writing projects, I take time to really delve into my characters, figuring out what makes them tick and developing all their little idiosyncrasies.
So I guess my secret would be to first take in great storytelling content with excellent characters; those techniques do rub off on you. And second, spend time getting to know your characters and making them distinctly your own creation; develop their personalities and backstories and throw them into different scenarios to see how they behave. Even if you don't end up using any of that content in the book itself, that depth of knowledge and understanding is going to show up in your character on the page.
E: What was your favorite part about creating the Unhappy Families web series in Tash Hearts Tolstoy?
K: My favorite part was the chance to pay tribute to the real world of web series. I loved co-creating a Shakespearean-inspired web series with my friend Destiny Soria, and that experience played a lot into how I portrayed the behind-the-scenes workings of Unhappy Families. I also loved bringing together a fictional cast of characters and recreating that dizzying feeling that accompanies any project in the performing arts. And if I'm honest, it was a bit of wish fulfillment. I really want to see an Anna Karenina web series!
E: You were homeschooled, right? How did that affect how you wrote the homeschooled characters and co-op in Lucky Few?
K: Yes! You've uncovered my not-so-secret. I was homeschooled K-12, and I've never been as weirded out by that fact as other people seem to be. My homeschooling experience was
why
I wrote LUCKY FEW, so I channeled a lot of my teenage perspective into the characters of Stevie and Sanger. I wrote LUCKY FEW to be the novel younger Kathryn would have appreciated, with plenty of dark humor and close girl friendships. But most importantly, I wrote it to be a novel I could have seen myself in. Growing up, I never encountered a homeschooled character that remotely resembled me or my friends, so I wrote a story that confronted the typical homeschool stereotypes head-on.
E: Can you talk about writing Tash as asexual? There are so few asexual characters in YA, and I felt you did an excellent job with Tash.
K: Thank you. It really means a lot to hear back from readers on the asexual rep. I knew going into
Tash
that I wanted to write an asexual protagonist. I'm demi, and as a teen, I struggled with pegging my identity. So, much like I wrote
Lucky Few
to be the book Homeschooled Me needed, I wrote
Tash
to be what Questioning Me needed. I would have loved to have seen a character on the ace spectrum who accepted herself and lived bravely and creatively.
Since I don't share Tash's ID, I consulted with a sensitivity reader who does identify like Tash throughout the drafting and revision process. I also gave the manuscript to other ace readers for their feedback. I wanted to do everything in my power to get this rep right. There is so little explicitly asexual rep out there, and so much misinformation and stereotyping on top of that. I didn't want to perpetuate any of those harmful portrayals but, instead, actively combat them. And I really hope that readers can find encouragement and validation in Tash's story.
I also know, though, that Tash's story won't speak to other ace readers. And that's okay. This is a pretty niche book, Tash is a very particular character, and every individual's experience is different. I think that's why it's so important to support more asexual rep in YA, period. We need so many more voices and perspectives in this arena. Every teen deserves to see themselves on the page.
E: If an adaptation was going to be made of either of your YA novels, would you want it to be a movie, TV show, stage play/musical, web series...?
K: Normally, I prefer TV series to movies, but I think
Lucky Few
would be best suited to an indie movie budget. That's the far-fetched dream! As for
Tash Hearts Tolstoy
, I would love to see a web series take on the fictional
Unhappy Families
and make it a real thing. There's a reason I chose
Anna Karenina
as Tash's project: I've always thought it would make a freaking fantastic LIW (literary-inspired web series).
E: Do you listen to music while you write? If so, which artists or genres do you favor?
K: Do I ever. When I'm drafting, I can get distracted by lyrics, so I generally just put on a sound mix on Noisli. But when I'm revising (which takes up most of my writing time), music is a must. I compile official music playlists for all my books, and each of those favors a different style/genre/mood to fit the story. (Yes, I am a nerd.) But some of my favorite go-tos, no matter the project, include Arcade Fire, Metric, Lights, Sufjan Stevens, and Simon & Garfunkel.
E: When it comes to writing, are you a plotter, pantser, or a combination of both?
K: This isn't the sexy answer, but it's a strange combo of both. I use Scrivener to draft all my novels, and at the start of every project I create a ton of chapter files and then fill each one with a few all-caps lines detailing what needs to happen in that chapter. I do so as I'm chugging caffeine-filled tea and blasting upbeat music; it's a very dramatic process. So I do start with a written outline of sorts, but my characters inevitably switch things up as I'm drafting. And I have to remind myself to stay open to that possibility. I think those unexpected changes are necessary to create a story that feels authentically compelling, not forced.
E: Anna Karenina plays such a fun part in Tash Hearts Tolstoy. Are there any other classic novels that you hope might influence future books of yours?
Yes! In fact, I can tell you classic novels that already have influenced some of my other books. My Middle Grade fantasy series, The Water and the Wild, was heavily influenced by Alice in Wonderland and The Wizard of Oz. I'd also love to do a Jane Austen tribute or modernization one day. Persuasion is my favorite Austen novel, and I think it's so underrated. (I get very hipster about Persuasion.) So perhaps one day you'll see an Anne Elliot or Captain Wentworth tribute in my writing.
E: I like to ask authors what recent YA releases they'd recommend. Are there any you've loved?
K: Oh gosh, absolutely. I highly recommend
Saints and Misfits
by S.K. Ali,
The Hate U Give
by Angie Thomas, and
How to Disappear
by Sharon Huss Roat. In most recent news, I'm halfway through
Dress Codes for Small Towns
by Courtney Stevens, and I'm head over heels in love.
E: Cake or pie, and what kind?
K: PIE. ALWAYS PIE. Key lime is my dessert religion.
K: Thank you so much for having me on your blog, Emma! <3
E: Thanks for stopping by my blog!
If y'all haven't read Tash Hearts Tolstoy yet, get on that ASAP!