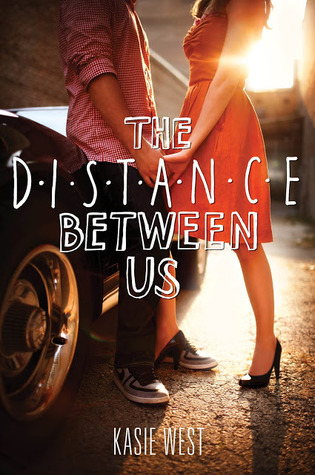 The Distance Between Us by Kasie West
Grade: B+
Summary:
Seventeen-year-old Caymen Meyers studies the rich like her own personal science experiment, and after years of observation she's pretty sure they're only good for one thing—spending money on useless stuff, like the porcelain dolls in her mother's shop.
So when Xander Spence walks into the store to pick up a doll for his grandmother, it only takes one glance for Caymen to figure out he's oozing rich. Despite his charming ways and that he's one of the first people who actually gets her, she's smart enough to know his interest won't last. Because if there's one thing she's learned from her mother's warnings, it's that the rich have a short attention span. But Xander keeps coming around, despite her best efforts to scare him off. And much to her dismay, she's beginning to enjoy his company.
She knows her mom can't find out—she wouldn't approve. She'd much rather Caymen hang out with the local rocker who hasn't been raised by money. But just when Xander's attention and loyalty are about to convince Caymen that being rich isn't a character flaw, she finds out that money is a much bigger part of their relationship than she'd ever realized. And that Xander's not the only one she should've been worried about.
The Good, the Bad, and the Ugly: The Distance Between Us was the first Kasie West book I ever read, way back in 2013, and I didn't appreciate it as much as I did a few months later or even now. It's not my favorite Kasie West book, but it is one of her more solid offerings.
The Distance Between Us characterizes Caymen, Xander, and Caymen's mom well. The supporting characters are a little weak, though, and I would've liked more time with Caymen's grandparents. I enjoyed the career plot, and that Caymen and Skye had jobs. I feel like, too often, YA protagonists don't have jobs, and most real teenagers earn money one way or another (even it's just babysitting or yard work). I also thought Caymen's sarcasm was done nicely, and I appreciated that she wasn't always portrayed as the ordinary girl who bumbled her way through the upper class world. I liked that Xander's family did defy Caymen's expectations at times, although I really wish his grandmother had been in the story even more.
Language and romance are super clean. There's underage drinking, but Caymen doesn't participate.
The Verdict: A solid choice if you like contemporary romance.
Will I be adding this to my library?: Already have.