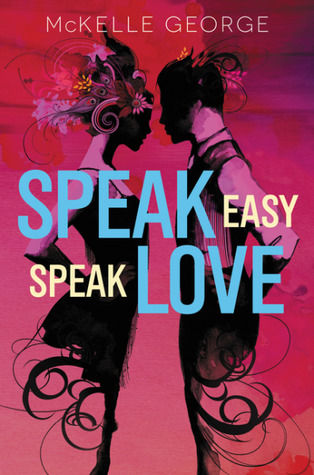 Speak Easy, Speak Love by McKelle George
Grade: B
An e-galley was provided by HarperCollins via Edelweiss in exchange for an honest review.
Summary:
Six teenagers' lives intertwine during one thrilling summer full of romantic misunderstandings and dangerous deals in this sparkling retelling of Shakespeare's Much Ado About Nothing.
After she gets kicked out of boarding school, seventeen-year-old Beatrice goes to her uncle's estate on Long Island. But Hey Nonny Nonny is more than just a rundown old mansion. Beatrice's cousin, Hero, runs a struggling speakeasy out of the basement—one that might not survive the summer.
Along with Prince, a poor young man determined to prove his worth; his brother, John, a dark and dangerous agent of the local mob; Benedick, a handsome trust-fund kid trying to become a writer; and Maggie, a beautiful and talented singer; Beatrice and Hero throw all their efforts into planning a massive party to save the speakeasy. Despite all their worries, the summer is beautiful, love is in the air, and Beatrice and Benedick are caught up in a romantic battle of wits that their friends might be quietly orchestrating in the background.
The Good, the Bad, and the Ugly: If this is your first time reading one of my reviews, you may not know how much I love Shakespeare retellings. But I do, so Speak Easy, Speak Love was absolutely one of my most-anticipated books of 2017.
The beginning was a little rough, but stick with this book, and it'll smooth out for a strong middle and end.
The fact that Benedick and Beatrice had no prior history and didn't hate each other to begin with kind of ruins the fun of the plot, although the scene where they dance at the Masquerade is well done. It's reminiscent of Shakespeare's without being too derivative. And I liked how their relationship progressed, and they were both able to pursue their dreams. I did appreciate how the author played with the plot surrounding Hero. She, like Lily Anderson in her Much Ado About Nothing retelling The Only Thing Worse Than Me Is You, changes the plot so it causes just a little less drama, although there's definitely still slut-shaming. Speaking of Hero, her personality really bursts off the pages. She was vibrant and lovely and not so meek as other interpretations of Hero, but just as much of a Hufflepuff. I also really liked Prince/Pedro in this adaptation, and I thought the author did a good job of incorporating Verges and Dogberry.
Other little things I liked:
how the chapter titles are quotes from
Much Ado About Nothing
, how Benedick's dad was impressed by Beatrice, the accurate time period references.
There's underage drinking, of course (this is a Prohibition era novel). The s-word was used a few times.
The Verdict: Didn't quite live up to my expectations, but it was still a fun read.
Will I be adding this book to my library?: My preorder came yesterday!