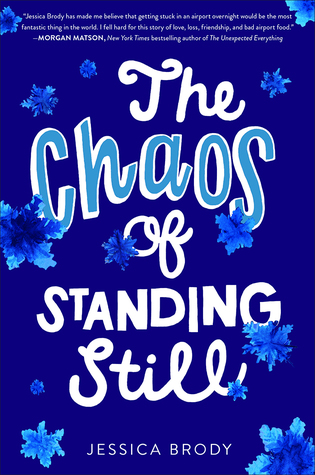 The Chaos of Standing Still by Jessica Brody
Grade: D+
Release date: November 28, 2017
An e-galley was provided by the publisher via NetGalley in exchange for an honest review.
Summary:
Over the course of one chaotic night stranded at the Denver airport, Ryn confronts her shattered past thanks to the charm of romance, the uniqueness of strangers, and the magic of ordinary places in this stunning novel from the author of
Boys of Summer
.
Ryn has one unread text message on her phone. And it's been there for almost a year.
She hasn't tried to read it. She can't. She won't. Because that one message is the last thing her best friend ever said to her before she died.
But as Ryn finds herself trapped in the Denver International Airport on New Year's Eve thanks to a never-ending blizzard on the one-year anniversary of her best friend's death, fate literally runs into her.
And his name is Xander.
When the two accidentally swap phones, Ryn and Xander are thrust into the chaos of an unforgettable all-night adventure, filled with charming and mysterious strangers, a secret New Year's Eve bash, and a possible Illuminati conspiracy hidden within the Denver airport. But as the bizarre night continues, all Ryn can think about is that one unread text message. It follows her wherever she goes, because Ryn can't get her brialliantly wild and free-spirited best friend out of her head.
Ryn can't move on.
But tonight, for the first time ever, she's trying. And maybe that's a start.
The Good, the Bad, and the Ugly: There's nothing that makes me more frustrated than flashback-laden books and characters whose anxiety becomes caricaturish. Because Ryn's best friend is dead, every scene with Lottie is a flashback, and there are SO MANY flashbacks. Honestly, the best books with flashbacks use them sparingly. And then there's Ryn's anxiety, which seems to have mostly manifested itself since a) her parents' divorce, and b) Lottie's death. There were moments where it got out of hand and I didn't think Brody handled it well. Of course anxiety isn't neat and perfect, but nothing about Ryn felt authentic to me.
As for Xander, I called the plot twist with him from the moment he appeared on page. It's nothing original, so if you're well-read in YA contemporary, you'll see it coming too. Also he pushed Ryn in ways that made me uncomfortable. It's one thing to encourage a friend to get outside their comfort zone; it's another when the person is a complete stranger you just met that day.
I called pretty much every direction the plot went, and I was bored for most of the book.
There was an abundance of foul language and underage drinking.
The Verdict: Honestly, I don't think I click with Jessica Brody's books. This is definitely not one of her shining stars.
Will I be adding this book to my library?: Nah.