Hi, y'all! I'm so happy to welcome author Tiana Smith to the blog today. Her book, Match Me If You Can, is coming out very soon (January 8, to be exact), and since it's a lovely Swoon Reads title, she's going to talk about her favorite rom-coms today. Take it away, Tiana!
Some of the Best Rom Coms Ever
I'm pretty vocal about my love for rom coms. In my opinion, they are the best things ever and everyone should love them. EVERYONE, I tell you. Books, movies, TV shows, it doesn't matter. If it has a romance element and makes me laugh, it automatically wins. I love them so much that I wrote one called Match Me If You Can, and it comes out from Swoon Reads/Macmillan on January 8th 2019.
Whenever a friend needs a recommendation, they know to come to me. So, I'm going to share a few of my favorites with you. We could all use some more rom coms in our life, ammiright? Let's start with one of the newest ones…
To All the Boys I've Loved Before
This is straight up adorable and is available on Netflix. It's based on a book by Jenny Han, and I'm still waiting for my library hold to come in, because after watching that movie I TOTALLY NEED THE BOOK, okthxbai.
I can't believe I haven't read it yet, in fact. I don't know if I'll be patient enough for the library. I might need to just buy it already.
Anything by the author Kasie West
Kasie West is the queen of YA rom com books. Seriously. Pick up anything by her, and you're sure to end the book smiling. She's my go-to when I need a pick me up.
Anything by the author Janette Rallison
Janette Rallison is another auto-buy author for me. Her books span a lot of different genres, but her contemporaries are my favorite.
Her Fair Godmother Series is also completely swoonworthy and full of embarrassing moments to make you smile.
Austenland by Shannon Hale
This is another one that's been made into a movie! IMO, the book's better, but then again, when is it not?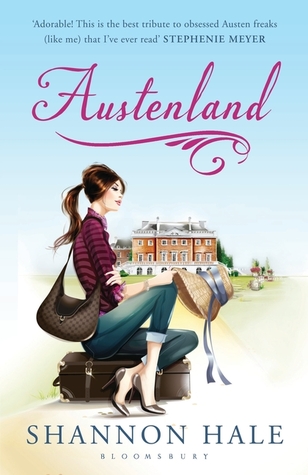 Seriously though, if you love Jane Austen at all (and who doesn't?) then you need this book in your life.
Not in the Script by Amy Finnegan
I honestly cannot tell you how many times I've read this book because I've lost count.
It's the perfect blend of romance, interesting Hollywood tidbits, and drama. Everyone I've recommended it to has loved it, so that's saying something.
Ten Things I Hate About You
This is a staple of the rom com genre, and if you haven't seen it, you should be ashamed. I mean, there are so many great laugh out loud moments in the film, and yet it perfectly captures the romance too.
I can't tell you how many times I've watched this.
How to Lose a Guy in Ten Days
The flirting! The competitiveness! The perfect chemistry that the characters simply can't resist, no matter how much they both want to.
It's hard to put this much humor into a movie and still leave time for developing the relationship, but somehow they nailed it.
While You Were Sleeping
Okay, this is one of my favorite movies of ALL TIME. I'm not even exaggerating. There's so much to love here, and if you don't ship these two together, then I'm not sure we can be friends.
I mean, falling for the brother while you're supposed to be engaged to the guy in the coma? TELL ME MORE.
Princess Bride
Is there anyone that doesn't love this one? I don't think there's a movie that's more iconic. Literally every line stands on its own, and despite the old special effects, it's something I think every generation will enjoy. It's hard to find a rom com you can watch with the kids, but hey, there you go.
Plus, is there anything more romantic that the love between Wesley and Buttercup? I think not!
So I hope you now have a bunch of rom coms to fill your every need! And if rom coms are your thing, I hope you'll check out
Match Me If You Can
and add it to your shelf on Goodreads! There's plenty of romance, comedy, and all around adorableness to go around! Thanks for having me here!
Mia's best friend Robyn is known for her matchmaking skills, which is perfect, because homecoming is just around the corner. But Robyn refuses to set Mia up with the guy of her dreams, which forces Mia to take matters into her own hands. She uses Robyn's matchmaking service to make sure popular Vince Demetrius falls for her.

Vince asks her out, but Mia doesn't count on Logan, the persistent school newspaper photographer who seems to like her out of the blue. Now she has to choose between Vince - the guy she knows is right for her - and Logan, who insists that she give him a chance. And she needs to make sure Robyn doesn't find out that Mia's been matchmaking behind her back.

Mia has two weeks before homecoming. Can she fix the mess she made or will she have to kiss her perfect match goodbye forever?
Tiana Smith is a copywriter turned novelist who grew up in the Wild West of Montana. When she isn't writing, she's chasing after her ninja boy, reading, or binging the Disney Channel. She'd love to be fluent in sign language, but for now she gets by with awkward hand gestures and even more awkward French. She has double degrees in Honors and English from Westminster College but wants to go back to school to be a lion tamer.