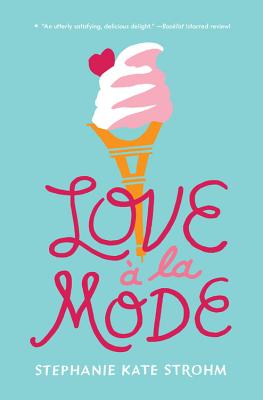 Love
à
la Mode by Stephanie Kate Strohm
Grade: C+
Release date: November 27, 2018
An e-galley was provided by the publisher via NetGalley in exchange for an honest review.
Summary:
Rosie Radeke firmly believes that happiness can be found at the bottom of a mixing bowl. But she never expected that she, a random nobody from East Liberty, Ohio, would be accepted to celebrity chef Denis Laurent's school in Paris, the most prestigious cooking program for teens in the entire world. Life in Paris, however, isn't all cream puffs and crepes. Faced with a challenging curriculum and a nightmare professor, Rosie begins to doubt her dishes.
Henry Yi grew up in his dad's restaurant in Chicago, and his lifelong love affair with food landed him a coveted spot in Chef Laurent's school. He quickly connects with Rosie, but academic pressure from home and his jealousy over Rosie's growing friendship with gorgeous bad-boy baker Bodie Tal makes Henry lash out and push his dream girl away.
Desperate to prove themselves, Rosie and Henry cook like never before while sparks fly between them. But as they reach their breaking points, they wonder whether they have what it takes to become real chefs.
The Good, the Bad, and the Ugly: Food books are one of my favorite things. I'm already daydreaming about a recipe to make inspired by Love
à la Mode. Unfortunately, overall, the book wasn't quite what I wanted it to be, apart from the food.
The drama between Henry and Rosie relies a lot on communication issues and a sort-of love triangle, neither of which I especially enjoy. They start out strong, which is maybe the problem. Characters can't stay stagnant, so the only way their relationship could go was down before it can go back up. But because of all the drama, there wasn't nearly enough page space devoted to the secondary characters: Yumi, Priya, Marquis, and Hampus. Readers get little details about them, but nothing that makes them feel more than two-dimensional.
Even the sort-of mean girl, Clara, is
very
two-dimensional.
Eventually, Strohm starts to skim over cooking class details in order to focus on the romance, and I started to lose interest. Give me all the food, not the love triangle-esque drama! There's another guy, Bodie Tal, interested in Rosie. On paper, he and Rosie are a bit more similar. They're the only students more interested in being pastry chefs, and this helps them bond. Rosie has a crush on him, but she also seems drawn to Henry and I'd rather it be clearer cut. Like, Bodie can have feelings for Rosie, but I would've preferred her to only like Henry (who honestly needed to get a grip and stop reacting so jealously any time Rosie interacted/spent time with Bodie).
Love
à la Mode was pretty readable, at least. I'll give it that. But it needed more kitchen drama and less romance drama. Don't get me wrong; I love romantic stories, but I think so much drama in that part can get old very fast.
Content warnings: a few small kitchen injuries, death of a family member.
The Verdict: Not all I hoped it would be. I guess I just don't click with Strohm's writing, which is sad because her books have such cute premises.
Will I be adding this book to my library?: Nah.