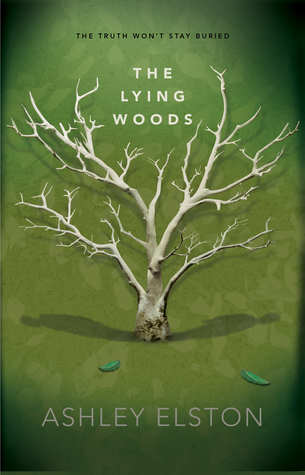 The Lying Woods by Ashley Elston
Grade: C-
Release date: November 13, 2018
An ARC was provided by Miss Print's ARC Adoption Program in exchange for an honest review.
Summary:
Owen Foster has never wanted for anything. Then his mother shows up at his elite New Orleans boarding school cradling a bombshell: his privileged life has been funded by stolen money. After using the family business, the single largest employer in his small Louisiana town, to embezzle millions and drain the employees' retirement accounts, Owen's father vanished without a trace, leaving Owen and his mother to deal with the fallout.
Owen returns to Lake Cane to finish his senior year, where people he can barely remember despise him for his father's crimes. It's bad enough dealing with muttered insults and glares, but when Owen and his mother receive increasingly frightening threats from someone out for revenge, he knows he must get to the bottom of what really happened at Louisiana Frac--and the cryptic note his father sent him at his boarding school days before disappearing.
Owen's only refuge is the sprawling, isolated pecan orchard he works at after school, owned by a man named Gus who has his own secrets--and in some ways seems to know Owen better than he knows himself. As Owen uncovers a terrible injustice that looms over the same Preacher Woods he's claimed as his own, he must face a shocking truth about his own past--and write a better future.
The Good, the Bad, and the Ugly: After quite enjoying Elston's This Is Our Story, I was excited to see what The Lying Woods would hold. While it's an interesting read, it doesn't have the same drive and thrill that This Is Our Story did.
The story is narrated by Owen in the present day and a guy named Noah back in 1999, both of whom form a working relationship with Gus Trudeau. Noah's sections were never that interesting to me; his voice was bland and uncompelling. (Is that even a word?) There are several character relationships at play, and honestly, none of them felt deep enough for me to care. I couldn't feel any real connection between Owen and his friends or Pippa or even his mom. His aunt was a caricature.
What drove This Is Our Story was primarily the whodunnit aspect, and there were enough twists and turns to keep readers guessing. The mystery here was a bit more straightforward and lacked complexity. I had zero guesses as to who had done anything, and I kind of felt like I didn't even know what I was waiting for to be revealed. Then when the big reveal came, it was way too late in the story with just too little evidence.
Content warnings: Plenty of foul language. Vague references to sex. Some violence and threats.
The Verdict: Frankly, a bit disappointing.
Will I be adding this book to my library?: No.