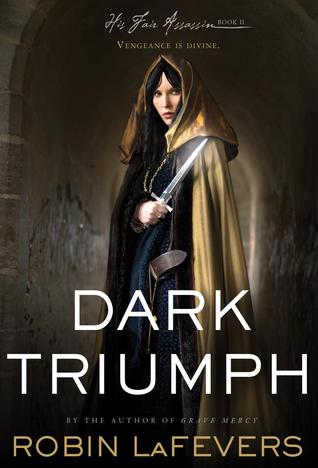 Dark Triumph by Robin LaFevers
Grade: B-
This e-book was provided by HMH for Young Readers and NetGalley in exchange for an honest review.
Summary:
When Sybella arrived at the doorstep of St Mortain half mad with grief and despair the convent were only too happy to offer her refuge - but at a price. The sisters of this convent serve Death, and with Sybella naturally skilled in both the arts of death and seduction, she could become one of their most dangerous weapons.
But her assassin's skills are little comfort when the convent returns her to the life that nearly drove her mad. Her father's rage and brutality are terrifying, and her brother's love is equally monstrous. But when Sybella discovers an unexpected ally she discovers that a daughter of Death may find something other than vengeance to live for...
The Good, the Bad, and the Ugly: Considering how dark Grave Mercy is, Dark Triumph is even darker. Sybella is not as easy of a character to love as Ismae is. She isn't awkwardly charming (or really, charming at all). She makes interesting choices, many of which I do not agree with. But her story is compelling.
The arc from Grave Mercy continues (in fact, Dark Triumph opens towards the end of the first book), and I really wish we'd have seen Ismae and Sybella interact more, working to protect the Duchess. I know for a fact that I can't love this book as much as I enjoyed its predecessor, and I think that's okay. With how meaty all three of the books in the His Fair Assassin trilogy are, Dark Triumph was altogether necessary. I think some of my favorite characters in this installment had to be Sybella's little sisters (at least in their brief appearances) and the Charbonnerie. Also, the Beast of Waroch is fascinating.
I wasn't as wooed by the romance in this book as I was by Gavril and Ismae's. But I could see it working in the end.
Like I said, Dark Triumph is, well, dark. There's a heck of a lot of violence, plenty of trigger warnings, and fun jazz like that. This is definitely not a book for the faint of heart.
The Verdict: If your main complaint about Grave Mercy was that it was too political and lacked action (something I don't agree with), Dark Triumph will certainly make up for that.