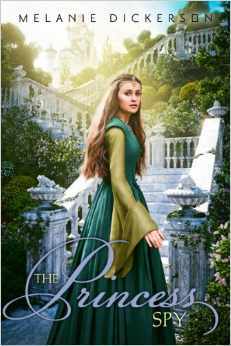 The Princess Spy by Melanie Dickerson
Grade: B+
This book was provided by BookLook Bloggers in exchange for an honest review.
Summary:
Margaretha has always been a romantic, and hopes her newest suitor, Lord Claybrook, is destined to be her one true love. But then an injured man is brought to Hagenheim Castle, claiming to be an English lord who was attacked by Claybrook and left for dead. And only Margaretha---one of the few who speaks his language---understands the wild story. Margaretha finds herself unable to pass Colin's message along to her father, the duke, and convinces herself 'Lord Colin' is just an addled stranger. Then Colin retrieves an heirloom she lost in a well, and asks her to spy on Claybrook as repayment. Margaretha knows she could never be a spy---not only is she unable to keep anything secret, she's sure Colin is completely wrong about her potential betrothed. Though when Margaretha overhears Claybrook one day, she discovers her romantic notions may have been clouding her judgment about not only Colin but Claybrook as well. It is up to her to save her father and Hagenheim itself from Claybrook's wicked plot.
The Good, the Bad, and the Ugly: This was the fifth in Melanie's historical fiction fairytale retelling series, and it's good to see everything finally come full-circle. For those of you who have read The Merchant's Daughter, which I highly recommend, you'll get some fun surprises. Also, it ties up some loose ends since that book was the only one not connected to the other three in some way.
Margaretha is a fun character. I loved her chattering ways, and I liked her more than Gisela or Sophie and as much as Rose and Annabel. Colin was a great love interest. Additionally, there are Christian elements but, overall, The Princess Spy felt less preachy than some of the past books. The characters' faith is more a part of their lives than a sermon.
However, I'm not sure this was the best fairytale to retell. I didn't feel like there were too many elements of The Frog Prince in it. Also, Melanie's writing felt a bit too stiff and formal at times.
The romance, though, was very nice. There's no love triangle because Margaretha never had real feelings for Lord Claybrook. Also, I think she and Colin had some very swoony moments (although nothing compares to Rose and Wilhelm or Annabel and Ranulf, in my opinion).
It's a pretty clean book; violence is the worst, but it's not terribly graphic.
The Verdict: A fun read, especially if you've read Melanie's previous fairytale retellings.