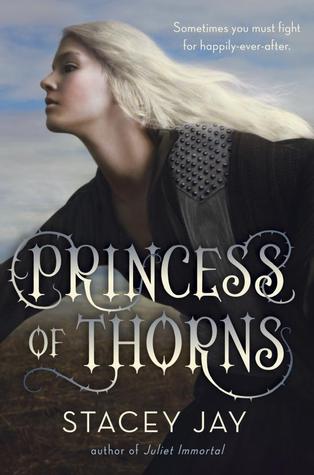 Princess of Thorns by Stacey Jay
Grade: C+
Release date: December 9, 2014
This e-galley was provided by Delacorte and NetGalley in exchange for an honest review.
Summary:
Game of Thrones meets the Grimm's fairy tales in this twisted, fast-paced romantic fantasy-adventure about Sleeping Beauty's daughter, a warrior princess who must fight to reclaim her throne.
Though she looks like a mere mortal, Princess Aurora is a fairy blessed with enhanced strength, bravery, and mercy yet cursed to destroy the free will of any male who kisses her. Disguised as a boy, she enlists the help of the handsome but also cursed Prince Niklaas to fight legions of evil and free her brother from the ogre queen who stole Aurora's throne ten years ago.
Will Aurora triumph over evil and reach her brother before it's too late? Can Aurora and Niklaas break the curses that will otherwise forever keep them from finding their one true love?
The Good, the Bad, and the Ugly: Fairytale retellings are usually hit-or-miss for me. I like darker retellings, but they can't be too dark or weird. I like modern retellings, but they can't change too much of the details in an effort to make it overly modern. So where does Princess of Thorns fall for me? It's more of a miss than a hit, unfortunately.
I'm pretty sure we were supposed to like Aurora, but I didn't. She's too impulsive, and doesn't think things through well enough, and she's very selfish. She never seems to care about the people she's about to rule. All that's on her mind are herself, her love for brother, and her attraction to, and eventually love for, Niklaas. I've grown bored with Fey in fairytale retellings or fantasy novels in general, and Princess of Thorns was no exception. I also think parts of the end (that I can't reveal without spoiling things) came about too suddenly. There wasn't enough artistic unity earlier in the book for them to make sense. There was info-dumping to explain away the sudden changes, but I wasn't buying it.
So what did I like? The first sentence. (The whole "Once upon a time there lived a prince and a princess with no happily ever after...") I thought the sections from Ekeeta's POV were interesting. And Niklaas wasn't bad. That's honestly about it. I didn't entirely have to force myself to finish the book, so that's good, but would I reread it? It's highly unlikely.
Language is fairly tame. Romance and violence...not as much.
The Verdict: If you love fairytale retellings, then you should at least give this one a try. But I wouldn't expect much from it.