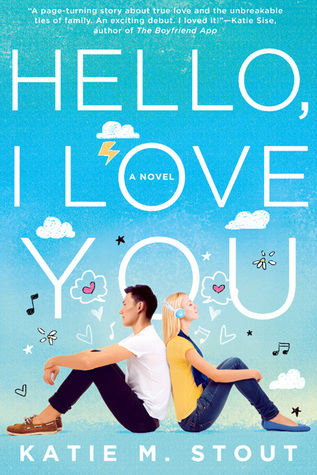 Hello, I Love You by Katie M. Stout
Grade: B+
Release date: June 9, 2015
This e-galley was provided by St. Martin's Griffin and NetGalley in exchange for an honest review.
Summary:
Grace Wilde is running—from the multi-million dollar mansion her record producer father bought, the famous older brother who's topped the country music charts five years in a row, and the mother who blames her for her brother's breakdown. Grace escapes to the farthest place from home she can think of, a boarding school in Korea, hoping for a fresh start.
She wants nothing to do with music, but when her roommate Sophie's twin brother Jason turns out to be the newest Korean pop music superstar, Grace is thrust back into the world of fame. She can't stand Jason, whose celebrity status is only outmatched by his oversized ego, but they form a tenuous alliance for the sake of her friendship with Sophie. As the months go by and Grace adjusts to her new life in Korea, even she can't deny the sparks flying between her and the KPOP idol.
Soon, Grace realizes that her feelings for Jason threaten her promise to herself that she'll leave behind the music industry that destroyed her family. But can Grace ignore her attraction to Jason and her undeniable pull of the music she was born to write? Sweet, fun, and romantic, this young adult novel explores what it means to experience first love and discover who you really are in the process.
The Good, the Bad, and the Ugly: I'm always scared to read my most anticipated reads. I worry they won't live up to my expectations, that I've set the bar too high, that they won't find places on my favorites shelf. In the case of Hello, I Love You, the latter is definitely untrue. The first two, however...there's a little truth to them with this book.
Hello, I Love You features some great diversity. All of the characters except for Grace and her family are South Korean, or Chinese, or East Asian. Grace learns a lot about Korea and its food and culture and by default, readers learn too. I thought it was interesting to see that Grace did believe a few stereotypes or wasn't always open to trying new things. It was realistic, and while it was perhaps a bit off-putting to some, I found it refreshing. Jason's band is less KPOP-y than I think everyone was expecting, which I think is both good and bad. I would've liked more references and exploration of KPOP artists and music (whether real or fictional) and K-dramas.
The pacing of Hello, I Love You was great. Katie skipped the unimportant stuff, but the book didn't feel too choppy. In the romance department, it worked well, too. Enough time had passed that it was realistic when Grace and Jason started to like each other. They were a bit too hot and cold for me to be shipping them to the ends of the earth, but once Grace had worked out her problems, I was okay with the relationship. I would've liked more of a friendship with Sophie, and I wish Grace could've made friends with some of the other girls.
I don't really remember much, if any, foul language. Romance was pretty clean, mostly kissing and cuddling.
The Verdict: Really cute and fun, and I loved getting a look at South Korea! More boarding school books, please!
Will I be adding this book to my library?: Yes!