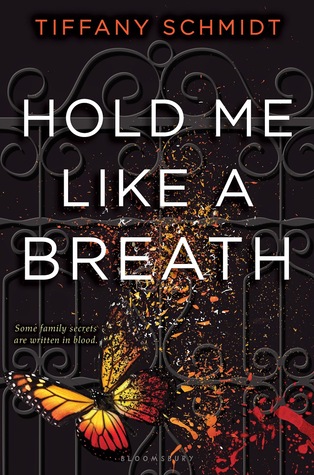 Hold Me Like a Breath by Tiffany Schmidt
Grade: B+
Release date: May 19, 2015
This ARC was provided by Bloomsbury in exchange for an honest review.
Summary:
Penelope Landlow has grown up with the knowledge that almost anything can be bought or sold—including body parts. She's the daughter of one of the three crime families that control the black market for organ transplants.
Penelope's surrounded by all the suffocating privilege and protection her family can provide, but they can't protect her from the autoimmune disorder that causes her to bruise so easily.
And in her family's line of work no one can be safe forever.
All Penelope has ever wanted is freedom and independence. But when she's caught in the crossfire as rival families scramble for prominence, she learns that her wishes come with casualties, that betrayal hurts worse than bruises, that love is a risk worth taking . . . and maybe she's not as fragile as everyone thinks.
The Good, the Bad, and the Ugly: I'm a sucker for fairytale retellings. And as much as I love the popular ones (and the Disney versions), I have to say the slightly more obscure ones do a great job at catching my interest. The Princess and the Pea is such a fun story, and I couldn't wait to see what Schmidt would do with it in Hold Me Like a Breath. To make my reading even more fun, I'd just seen my university's sophomore class's production of Once Upon a Mattress. I'm not sure Hold Me Like a Breath was quite what I wanted, however. Penny was much too trusting of certain people that she barely knew and she doesn't take good care of herself after she's out on her own. She wanted to prove to her parents that she could survive outside the estate, and she definitely didn't tend to her medical needs well enough. Char was a character I didn't like, unfortunately. He was too suspicious and I had his secrets pegged from the get-go (or, well, I had a pretty good guess). Character-wise, I wanted more of Penny's brother but for...reasons...we obviously couldn't. And I'm sad to say I don't ship the canon ship. (I shipped a sort-of canon ship until certain things happened.)
Plot-wise, it was pretty focused but it didn't go where I wanted or expected it to.
I enjoyed Schmidt's writing style, and I loved any reference to Once Upon a Mattress or Enchanted or allusion to the original fairytale. I didn't really guess the plot twist until it was looking me right in the face, which is good.
I don't remember much inappropriate content. Violence and some medical stuff (for those who are squeamish) was probably the worst of it.
The Verdict: I'm giving Hold Me Like a Breath 4 stars. Still deciding if I'd reread it a lot, but it wasn't too bad. Since this is a series, I'm hoping Schmidt will work out some of the issues and here's hoping book 2 is even stronger!
Will I be adding this book to my library?: I'd like to.