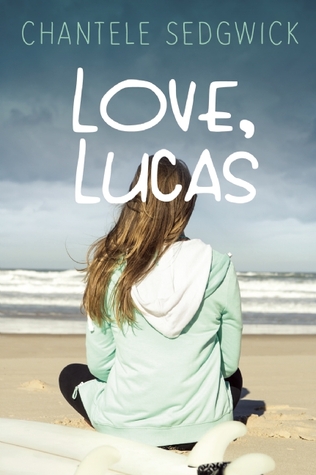 Love, Lucas by Chantele Sedgwick
Grade: D
Release date: May 5, 2015
This e-galley was provided by Sky Pony Press and Edelweiss in exchange for an honest review.
Summary:
When Oakley Nelson loses her older brother, Lucas, to cancer, she thinks she'll never recover. Between her parents' arguing and the battle she's fighting with depression, she feels nothing inside but a hollow emptiness. When Mom suggests they spend a few months in California with Aunt Jo, Oakley isn't sure a change of scenery will alter anything, but she's willing to give it a try.
In California, Oakley discovers a sort of safety and freedom in Aunt Jo's beach house. Once they're settled, Mom hands her a notebook full of letters addressed to her—from Lucas. As Oakley reads one each day, she realizes how much he loved her, and each letter challenges her to be better and to continue to enjoy her life. He wants her to move on.
If only it were that easy.
But then a surfer named Carson comes into her life, and Oakley is blindsided. He makes her feel again. As she lets him in, she is surprised by how much she cares for him, and that's when things get complicated. How can she fall in love and be happy when Lucas never got the chance to do those very same things?
With her brother's dying words as guidance, Oakley knows she must learn to listen and trust again. But will she have to leave the past behind to find happiness in the future?
The Good, the Bad, and the Ugly: When a book makes your want-to-read list a whole year before it's due to release, then you know you have high hopes it'll be good. Love, Lucas made my first Fifteen 2015 Reads post so I was very excited when it was available for download on Edelweiss. Unfortunately, it ended up being a disappointment. My biggest hang-up about this book was that it was nothing new. There were so many cliches that reminded me a bit too much of a bad fanfiction. Additionally, Love, Lucas didn't make me feel anything for Oakley, or Carson, or any other character. And the part I was looking forward to most - the letters from Lucas - didn't work as well as I hoped. Lucas's voice sounded much too feminine and formal. Some of my own letters sound a bit formal at times but it's always my own voice. Lucas's letters came across as just additional narration.
Most of the plot twists came across as disjointed and too out of the blue. I saw no purpose in the main one that I won't spoil. But also, how Oakley reacted to it was completely unnecessary and way too dramatic. Overall, I felt let down.
Don't remember much foul language, but that could be me blocking out any memory of it. Violence was a bit gruesome at the plot twist.
The Verdict: Nothing new or extraordinary. I would've been willing to overlook that, had there been more of an emotional impact.
Will I be adding this book to my library?: No.