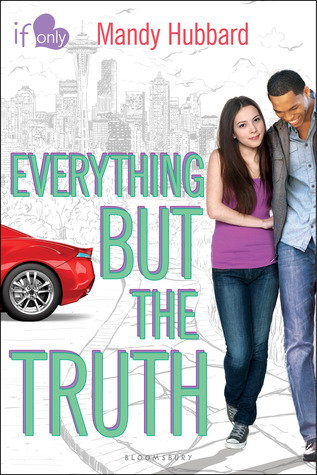 Everything But the Truth by Mandy Hubbard
Grade: B
Release date: November 17, 2015
An e-galley was provided by Bloomsbury USA Childrens via NetGalley in exchange for review consideration.
Summary:
Holly Mathews' mom is the new manager of a ritzy retirement home, and they just moved in. But having super-rich retirees as her only neighbors isn't a total bust, because the gorgeous, notorious Malik Buchannan is the grandson of a resident. Just one problem: when they meet, Malik assumes Holly is there to visit her own rich relative. She doesn't correct him, and it probably doesn't matter, because their flirtation could never turn into more than a superficial fling . . . right? But the longer she lives in his privileged world, the deeper Holly falls for Malik, and the harder it is to tell the truth . . . because coming clean might mean losing him.
For anyone who has dreamed of their own Cinderella story, this romance shows that when it comes to true love, the best person to be is yourself!
The Good, the Bad, and the Ugly: So after feeling let down by the last few If Only... titles, Everything But the Truth was a pleasant surprise. It's a short book with a simple plot - mainly focused on the romance - but I liked it. Holly's mother is a single parent, but they have a fairly good relationship and there's little tension there. The sub-plot definitely revolved around Holly and her best friend, Alex. Holly feels her best friend is slowly dumping her for another girl, Rena, and she often feels left out and hurt - a feeling a lot of us know all too well. That sub-plot took a wonderful twist and while at the end, I was still questioning some of the actions a bit, I really liked it.
As for the romance, I liked how we slowly got to know Holly and Malik a little better. They're both fully-formed characters. Holly is a bit girly but not overtly so. She likes antiques and interior decorating, and she has plans to attend Washington State University in the fall. Malik is set to run his grandfather's business - but he doesn't really want to. I was worried that part would be totally cliche, but it's not. He loves to read, and after a party boy past, he's actually realized the good he can do in this world and he's working toward ways he can do that and still take over his grandfather's company like expected.
The main conflict is that Malik thinks Holly is the granddaughter of one of the rich residents of the retirement home. She perpetuates this lie because she's worried at first that Malik is shallow and won't like her if she isn't rich. Then, when she realizes that isn't true, she's afraid to tell him because he doesn't like it when people use him for his wealth and fame - which she isn't at all. But she knows he'll break up with her for telling a lie. Their relationship isn't really built on a lie; he knows a lot about Holly's true self. I think this plot resolved pretty nicely.
The Verdict:
The book, overall, was fairly fluffy and I never fully shipped the romance, which would be required for this to become a 5-star read for me. But I'm happy to give it 4 stars.
Will I be adding this book to my library?: Yes.