The Author
Jenn Bennett is the author of the Arcadia Bell urban fantasy series with Pocket and the Roaring 20's historical paranormal romance series with Berkley. She lives near Atlanta with one husband and two pugs.
The Book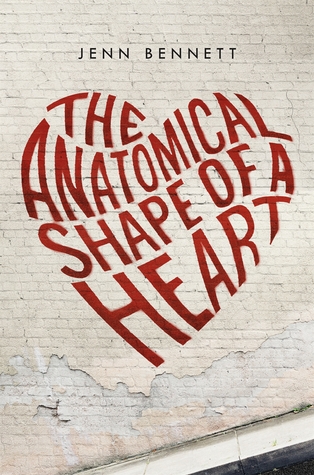 The Anatomical Shape of a Heart by Jenn Bennett
Artist Beatrix Adams knows exactly how she's spending the summer before her senior year. Determined to follow in Leonardo da Vinci's footsteps, she's ready to tackle the one thing that will give her an advantage in a museum-sponsored scholarship contest: drawing actual cadavers. But when she tries to sneak her way into the hospital's Willed Body program and misses the last metro train home, she meets a boy who turns her summer plans upside down.
Jack is charming, wildly attractive . . . and possibly one of San Francisco's most notorious graffiti artists. On midnight buses and city rooftops, Beatrix begins to see who Jack really is—and tries to uncover what he's hiding that leaves him so wounded. But will these secrets come back to haunt him? Or will the skeletons in Beatrix's own family's closet tear them apart?
Grade: B
An e-galley was provided by Feiwel & Friends via NetGalley in exchange for an honest review.
It's often the case that humorous novels are light on good imagery, and descriptive novels are more serious or light on true humor. Well I'm here to say that Jenn Bennett managed to get both in The Anatomical Shape of a Heart. Bex, the protagonist, has a great inner monologue. She's funny, and she describes the scenery and characters well. I loved that she had a fairly unique interest, too. Like, a lot of YA heroines and love interests are artists, but Bex (and Jack) took it to a whole new level, and it actually seemed to be their passion - not just an interest to flesh out their personalities. On the romance-side, they had a great meet-cute. I did feel like they started to spend more time together than with other people (does Bex have any friends?!), but I liked them together.
The plot revolved around Bex secretly sketching cadavers and Jack's street art. Bex was allowed by the school to do her sketching, so she's not breaking into the lab; the secret part revolves around her mother not knowing her daughter was doing that.
My main problem lies with the cliche-ness of the climax. When Jack's parents find out what he's up to, everything goes down like it does in practically every YA novel. The rich parents overreact and then realize how wrong they were. Also, Bex's mom was so against her particular art, and that seemed like a YA stereotype to me.
In addition, there was a fair amount of f-bombs and s-words, which are always off-putting to me, and the sexual content is more graphic than I usually prefer mine to be.
The Verdict: Really good! I liked The Anatomical Shape of a Heart more for its characters than its plot. I definitely recommend it.

"Guess who just won a golden ticket to Wonka's Cadaver Dissection Lab?"
Will I be adding this book to my library?: Maybe.

The Giveaway