**Warning: the following book synopsis and review contain spoilers for Lies I Told.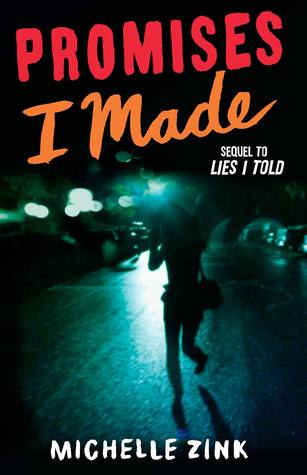 Promises I Made by Michelle Zink
Grade: C+
Release date: November 24, 2015
Summary:
Grace Fontaine was trained to carry out perfect crimes. But when a mistake was made the night her family tried to execute their biggest heist yet, her world fell apart. Now her brother is in jail, her mother has disappeared with the entire stolen fortune, and her father is determined to find a new mark, no matter the cost.

Haunted by the way she betrayed her friends—and Logan, the only boy she's ever loved—as well as the role she played in her brother's arrest, Grace decides she must return to the place every thief knows you should avoid: the scene of the crime.

Returning to Playa Hermosa as a wanted criminal is dangerous. But Grace has only one chance to make things right. To do it, she has to use everything she's been taught about the art of the con to hunt down the very people who trained her: the only family she's ever known.

Perfect for fans of Ally Carter, Cecily von Ziegesar, and Gail Carriger, this thrilling, high-stakes novel deftly explores the roles of identity and loyalty while offering a window into the world of the rich and fabulous.
The Good, the Bad, and the Ugly: I love heist books. And I apparently really like characters named Grace. Grace Fontaine is a lovely character. She's done a lot of bad things, and she knows they were bad. She doesn't excuse all her actions, and she's trying to be a better person. Not many books show the fallout and consequences of big things like the crime the Fontaines tried to pull off in Lies I Told, so I appreciated what Promises I Made had to offer in that area. This book provided resolution in pretty much all the important areas - Grace's friendships, Grace's romantic relationship, and the loose strings in book one. However, in a lot of ways, this sequel was wholly unnecessary. The first part of the book was very slow and introspective - which can be good. However, I would have much rather seen Promises I Made in the same book as Lies I Told. Certain parts of both could have been cut and we'd all be better for it. A lot of Promises I Made was told in summary, so Ms. Zink could have even made it an epilogue to Lies I Told, or even a novella. Ah, well.
Bonus points, though, for Marcus and Scotty. They really cared for Grace, and I loved that.
There's a fair amount of f-words and s-words. Romance and violence were pretty much nonexistent, though.
The Verdict: Good, but honestly not necessary as an entire book.
Will I add this book to my library?: Probably, just because I did like Lies I Told.